Posted on 07 December, 2021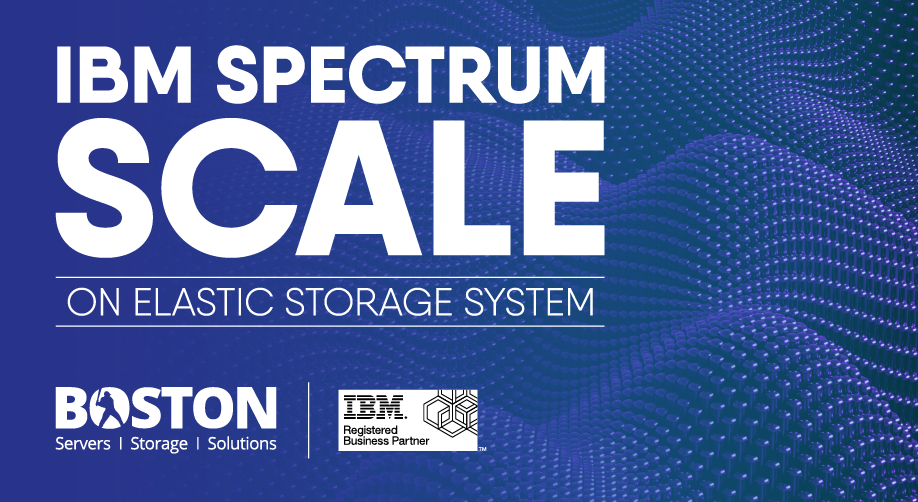 If you're looking for a flexible, scalable storage system then look no further than IBM Spectrum Scale on Elastic Storage System (ESS). Designed for HPC, big data analytics and AI, the IBM Spectrum Scale is an enterprise-level parallel file system that supports the following:
Superior performance
Scalability
Data resilience

It is one of the leading choices for HPC and AI projects and is part of the IBM Spectrum Storage family of solutions.
Based on IBM GPFS (General Parallel File System), Spectrum Scale delivers scalable capacity and performance to handle demanding data analytics, content repositories and technical computing workloads. Storage administrators can combine flash, disk, cloud and tape storage into a unified system with higher performance and lower costs than traditional approaches.
The system's highlights include:
Performance: remove data-related bottlenecks
with a parallel, scale-out solution
2.5 TB/s demonstrated throughput
Ease of management: enable global collaboration
with unified storage and global namespace
Data Lake serving HDFS, file, and object storage across sites
Economics: optimise cost and performance
with automated data placement
thin-provisioning preview and TRIM support, QOS on project preview
Robust: ensure data availability, integrity, and security
with erasure coding, replication, snapshots, and encryption
end-to-end checksum, Spectrum Scale RAID, NIST/FIPS certification

Spectrum Scale can be deployed by way of IBM Elastic Storage System (ESS), a storage building block designed as a unit of storage expansion within an IBM Spectrum Scale cluster. With this solution, storage can start off small and be expanded to meet business requirements, fully scalable from TBs to hundreds of petabytes, IBM ESS supports high-speed data networks, including 10 gigabit ethernet (10GbE) and platter-to-client data protection.
What can you look to expect when you choose ESS:
Optimal building block for high-performance, scalable,
reliable enterprise Spectrum Scale storage
Faster data access with the choice to scale-up or scale-out
Easy to deploy clusters with unified system GUI
Simplified storage administration with IBM Spectrum Control integration
One solution for all Spectrum Scale data needs
Single repository of data with unified file and object support
Anywhere access with multi-protocol support using
protocol nodes: NFS 4.1, SMB, Object, and HDFS
Ideal for big data analytics including full Hadoop transparency
Ready for business-critical data
Disaster recovery with synchronous or asynchronous replication
Ensure reliability and fast rebuild times using Spectrum Scale RAID's
dispersed data and erasure code
Five 9s (99.999%) of availability and online scalability and upgrades

If you're looking for a high-performance storage solution for HPC, AI, Analytics and more, then you need not look further. Vist our product page to find out more.
Or feel free to contact us for more information on 01727 876100, or email us at [email protected]
Innovated by IBM – Intelligently Applied® by Boston