Posted on 24 August, 2021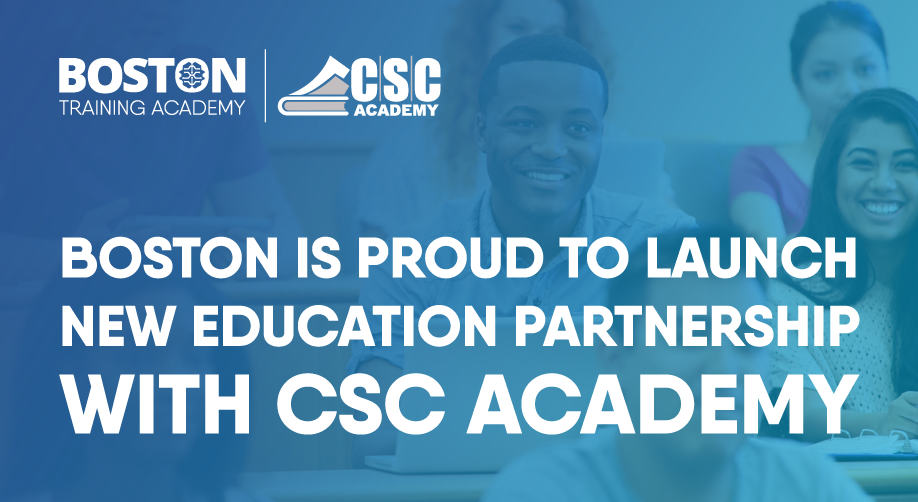 Boston is very proud to announce our partnership with the CSC Academy and launch our professional industry partnership programs in Data Science, Business Analytics, and Artificial Intelligence. It is an incredible opportunity to be aligned with the government of India, its AI for All initiative, and its vision for the future.
With the deployment of this initiative, India is demonstrating a commendable and very far-sighted approach. Artificial intelligence is not an abstract matter, after all – it has to be applied intelligently and through this initiative, we can ensure that all enterprises, as well as individuals, can remain abreast of what is possible not just today but also tomorrow.
Being a leader in solutions for AI, with over 30 years of experience in the field of technology and innovation, and unbridled access to the world's leading minds in AI and technology innovation across all sectors means that Boston is perfectly positioned to join the CSC Academy in a shared mission to make digital skills and knowledge available to all.
Through the Boston Training Academy, our blend of virtual, personal, and e-learning modules, utilizing a world-class infrastructure of tools and techniques and delivered by global experts, have already proven to be a success. Our global relationships with leading innovation vendors such as NVIDIA, Supermicro, Intel, and Graphcore means that we are always ahead of the curve. We are therefore delighted to have been chosen as the partner to deliver the AI curriculum, and very excited to bring our expertise and forward-thinking to the learner's experience and journey.
Education For All
The CSC Academy is a part of the Digital India initiative, providing access to professional learning for people with diverse backgrounds and educational needs, through a rigorous, positive, and transformative educational experience, driven by the extensive use of the very latest technologies. It has 5,930 training centers and 5,000 colleges that are already making the most of its AI and Data Science courses.
All in all, together with the CSC Academy, we are offering 10 short-duration independent courses and 3 major 6-months duration courses. Following the signing of MoU on the 11th of January 2021 for 3 years tenure, our target is to train 100,000 students and working professionals per year through the new initiative. In 3 years' time, however, we are all expecting that figure to have grown to at least 500,000.
With that in mind, we are already working with universities around new educational policy and providing industry-relevant AI knowledge to schools, colleges, and universities, so that the career path and mental growth of every child is driven in the right direction, with future requirements and the endless AI opportunities across verticals always in mind.
Why Is It So Important Now?
With Covid came as much as a fivefold increase in digital adoption. Many industries were already struggling with the shift in skills, however, more than 58% of workforces have reported skill transformations since the onset of the pandemic. This skills shortage is now a global problem, with every sector lacking the data scientists and the workforce fit for the future and necessary for success and for digital transformation.
58% of the workforce needs new skills to get their jobs done, according to Gartner, Inc, and a 2019 survey found that 54% of chief information officers view this skills gap as the biggest challenge facing their organization. The company predicts that by 2025, 50% of large-enterprise IT leaders will require operations technology management (OTM) skills to support artificial intelligence (AI) and augmented intelligence and that by 2023, 75% of companies will have an EVP tailored for attracting and retaining technology talent across borders. This means that the education and upskilling of our workforces is absolutely essential and cannot be put off any longer. It needs to be a priority for every business, and we're committed to driving this thinking and this agenda across industries.
Courses Designed to Fill the Skill Gaps
These courses have therefore been meticulously designed with these gaps in mind. Essentially, we want to nurture business leaders of tomorrow who are visionary, competent, committed, compassionate, and value-based. At the heart of this initiative, our aim is to empower students with the knowledge and skills needed to foster innovation that can be of service to society, and build a quality talent pool of AI experts and data scientists to fill the current gaps that the industry is facing.
For example, students with a bachelor's degree in Statistics or Mathematics can join a blended program of online and live classes over the course of 6 months, to become a certified professional in Artificial Intelligence. The course is a detailed graduate-level introduction to AI, focusing on advanced topics such as statistics, machine learning, computer vision, and NLP.
During this particular course, all students will learn how to apply Modern AI to different business verticals and understand the underneath mechanics of CV, Speech Analytics, and NLP. They will have access to state-of-the-art object detection models and image segmentation, to build programs on optimized CPU and GPU software and AI toolkits from Intel Software Stack, and build applications on real-time problem statements using AI concepts.
With hands-on industrial training, using the latest technology and learning tools and techniques, supplemented by world-class infrastructure, we can confidently ensure that by the end of the course, all students will be industry-ready in AI. This initiative will open doors to countless opportunities as a Jr Data Scientist, AI Support Engineer, AI Engineer, ML Engineer, Assistant Manager of Analytics, Software Engineer for AI and Data Science, and many other careers, and we're excited to help our first wave of students begin their journeys.
On a final note of gratitude, none of this would have been possible without the passion, support, and expertise of:
Mr. Dev Tyagi – Founder and Director, Boston Limited
Mr. Dinesh K Tyagi – Managing Director, CSC SPV, Secretary, CSC Academy
Ms. Laxmi, Global Head of AI Education and Solutions, Boston Training Academy
Mr. Rishikesh Patankar, Chief Operating Officer, Education, Skill & CSC Academy
Dr. Piyush Gupta, Chief Consultant, CSC Academy
If you would like to enquire further about our new initiative, get in touch with our team today who are on hand to help with any requirements. We'd love to hear from you. You can email us at [email protected] or call us on +91 80 4308 4000 (Bengaluru) or +91 22 5002 3262 (Mumbai).