Posted on 03 June, 2021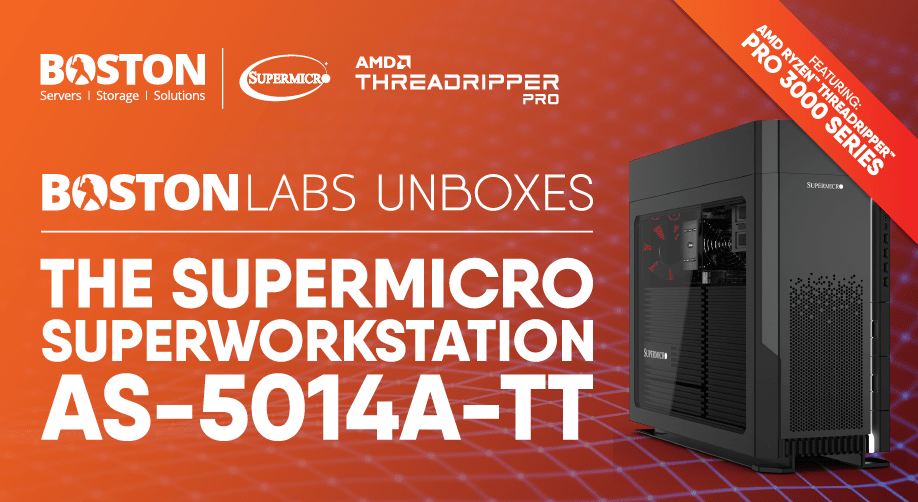 Today we will be looking into the latest addition to Supermicro's workstation range - the AS-5014A-TT. This is an ultra-high-end, single processor workstation powered by AMD Ryzen™ Threadripper™ Pro.
This is the first Supermicro workstation that uses Supermicro's brand new GS7A chassis design.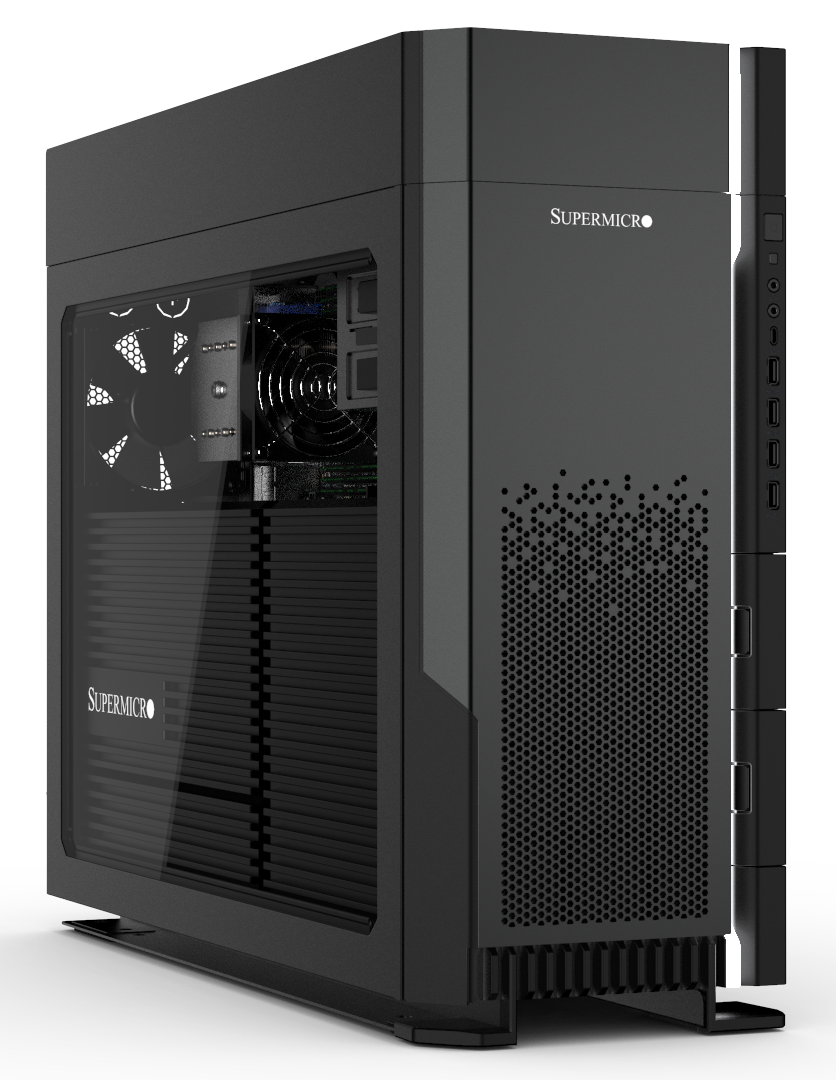 What is Threadripper PRO?
The Ryzen Threadripper 3000 series CPU's and AMD TRX40 chipset were originally introduced by AMD in February 2020 and were targeted at enthusiasts, content creators and streamers. Based on AMD Zen 2 architecture, it featured a truly ground-breaking performance with up to 64 cores and 128 threads, up to 256GB of DDR4-3200 memory in quad-channel configuration and 64 PCIe 4.0 lanes.
Ryzen Threadripper PRO takes things to the next level with the new AMD WRX80 chipset. As the name suggests, it is recommended for professionals such as studio creators, designers, engineers and data scientists. It features up to 64 compute cores and 128 threads, but it also improves specifications at every other level. The Threadripper PRO 3000WX supports up to 2TB of DDR4-3200 in an 8-channel configuration for higher capacity and greater memory bandwidth. 128 PCIe 4.0 lanes support more bandwidth-hungry devices such as GPU's, network cards or even NVMe SSD's.
In addition to this, it is "Enterprise ready" with AMD PRO Technologies which brings built-in security and memory encryption to help protect sensitive data, manageability, software support and validation, as well as long-life availability and reliability, making it stable enough for deployment in enterprise.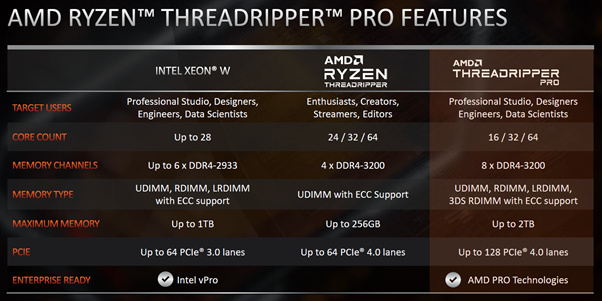 Motherboard overview
Before we look at the workstation, let's take a review of its key part – the Supermicro M12SWA-TF motherboard.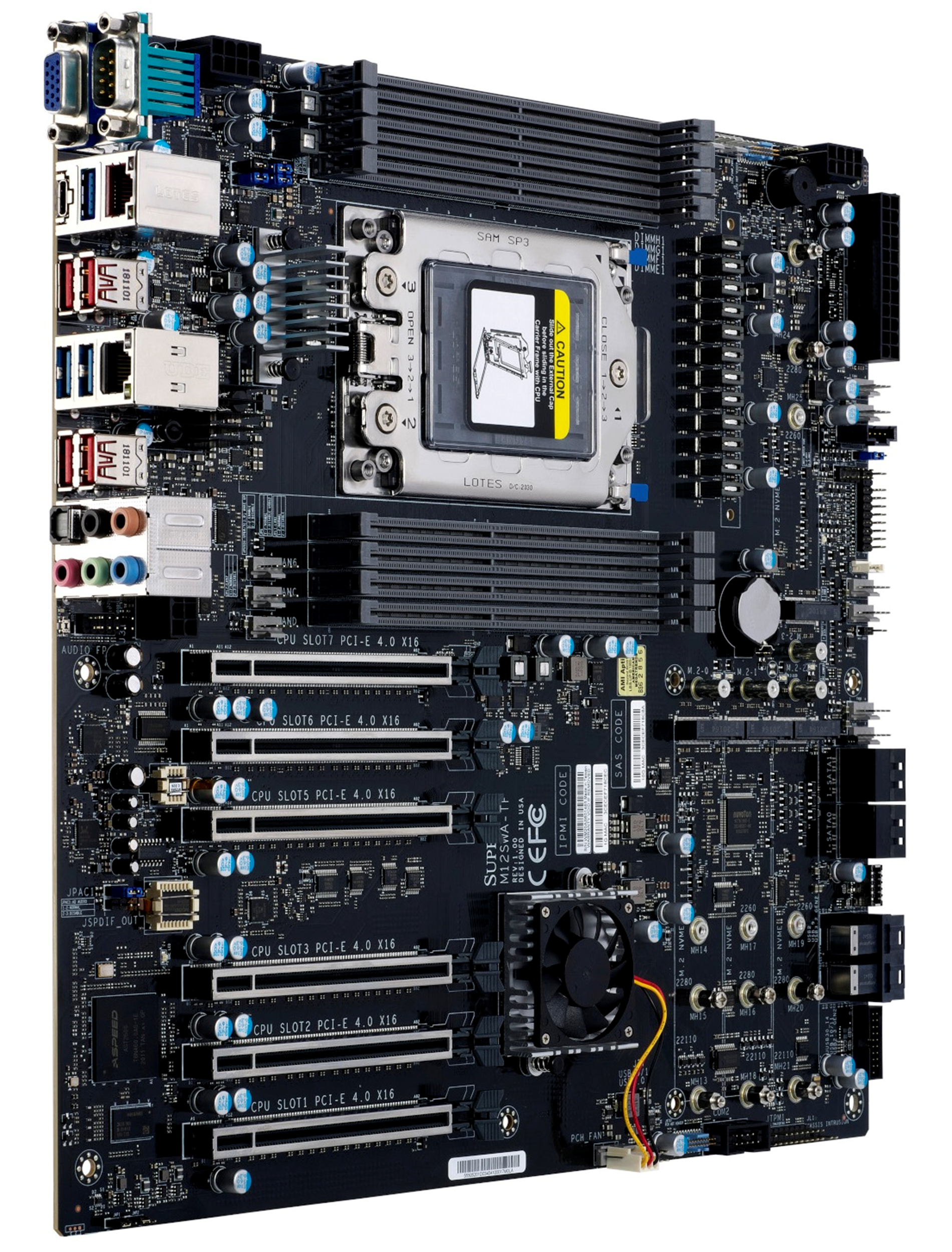 The M12SWA-TF comes in a E-ATX form factor and has a black PCB. It has an impressive feature set - the highlights of which are an sTRX40 socket that supports a Ryzen Threadripper PRO 3000WX CPU, 8 DIMM slots for up to 2TB of DDR4-3200 memory capacity and 6 PCIe 4.0 x16 expansion slots supporting devices such as multiple GPU's, video capture cards and high-speed network controllers.
As for storage, it supports up to four M.2 and two U.2 PCIe 4.0 NVMe SSD's as well as four SATA3 drives. There are plenty of I/O too - we have one 10GBase-T and one GbE network port that is shared with IPMI (remote management), plenty of USB 3.2 ports including USB Type-C, a legacy Serial / COM port, 7.1 HD Audio connectors and a VGA display output from the on-board graphics – a basic Aspeed AST2600 used for IPMI KVM/IP. In addition to this, we have multiple headers that allow for connecting additional devices and more ports, such as a Trusted Platform Module (TPM), front audio panel or even extra USB ports (1x USB 3.2 Type-C, 2x USB 3.2 Type-A, 2x USB 2.0).
AS-5014A-TT – Packaging and content
Please note that the workstation that we are going to unbox is a sample unit so some things may differ slightly from production units.
Our AS-5014A-TT has arrived in the plain cardboard packaging that did not have any Supermicro branding.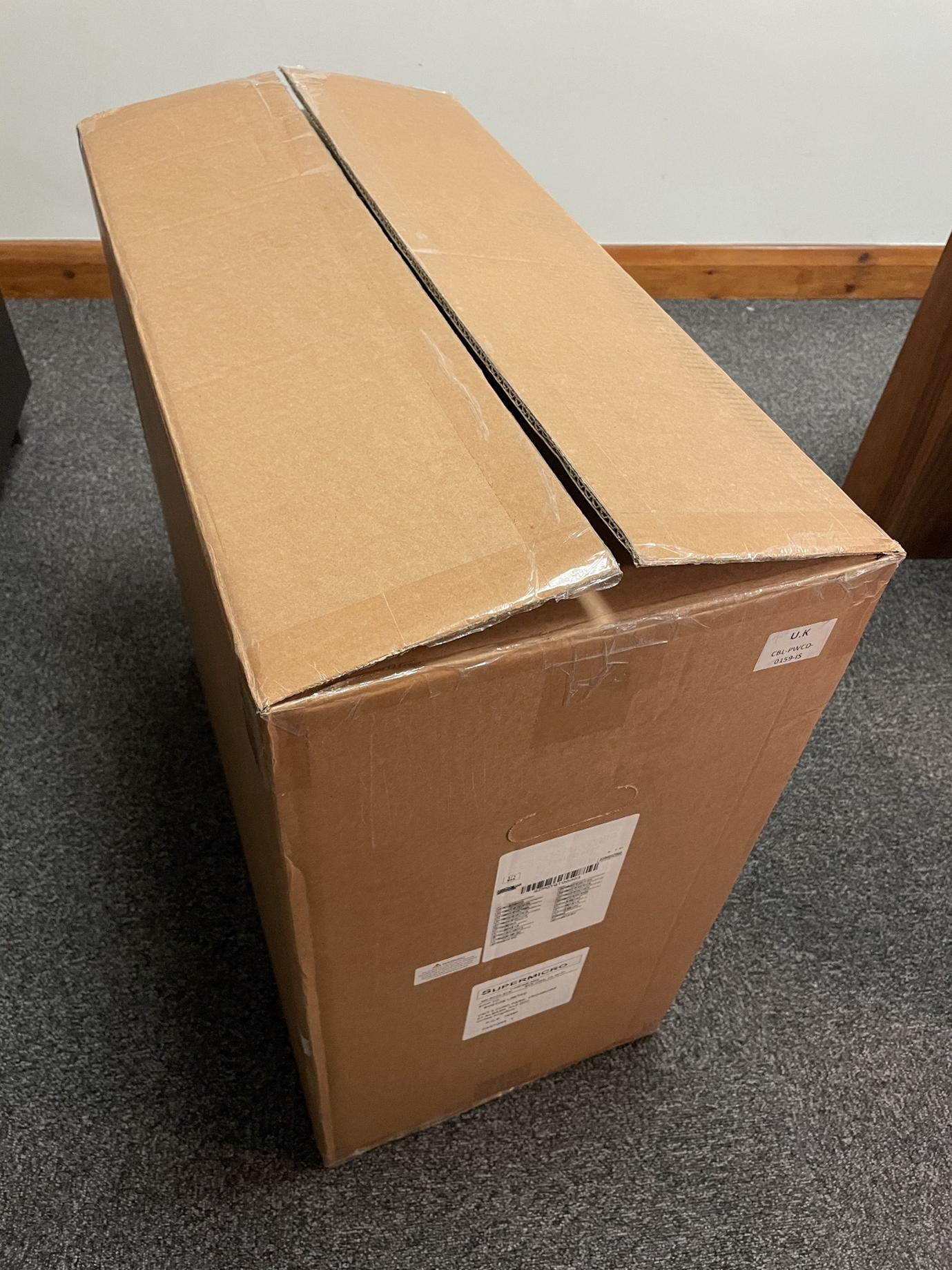 The packaging contained a workstation and two accessory boxes with a C19 power cord, additional wires for the modular power supply, SATA cables, and the PSU / GPU support brackets.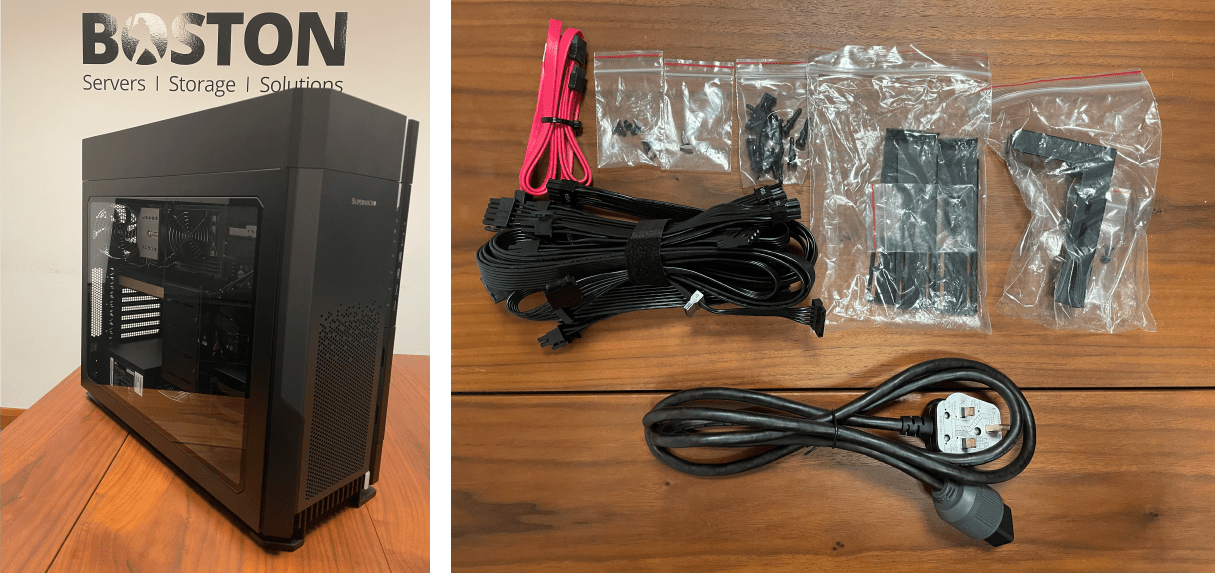 AS-5014A-TT – Exterior
The new GS7 chassis design is a great mix of an industrial workstation design and the aesthetics of the high-end gaming PC, and signals a change in the chassis we've seen before from Supermicro.
Let us start with the front of the chassis – it has a sleek and clean look with exposed I/O ports, two tool-less hot-swappable 2.5'' SATA bays and two 5.25'' bays with two 120mm cooling fans hidden behind a closed door branded with the Supermicro logo. The front door has a removable air filter mounted behind the air-vents that helps keep your hardware clean and dust-free. There is also an RGB strip on it that goes from the bottom-front all the way through to the top of the case – giving a nice aesthetic touch to the workstation. Unfortunately, the M12SWA-TF motherboard does not support RGB, so the LED illuminates only in a bright white colour which, for some, could be quite disruptive; luckily it can be turned off by simply pressing the button on the front of the chassis. The RGB support can be added by using the 3rd party controller however if you do like a home disco.
In terms of the front I/O we have everything needed:
Power button
LED on/off button
Headphone-out and Microphone-in jacks
USB 3.2 Type-C
Two USB 3.2 Type-A
Two USB 2.0 Type-A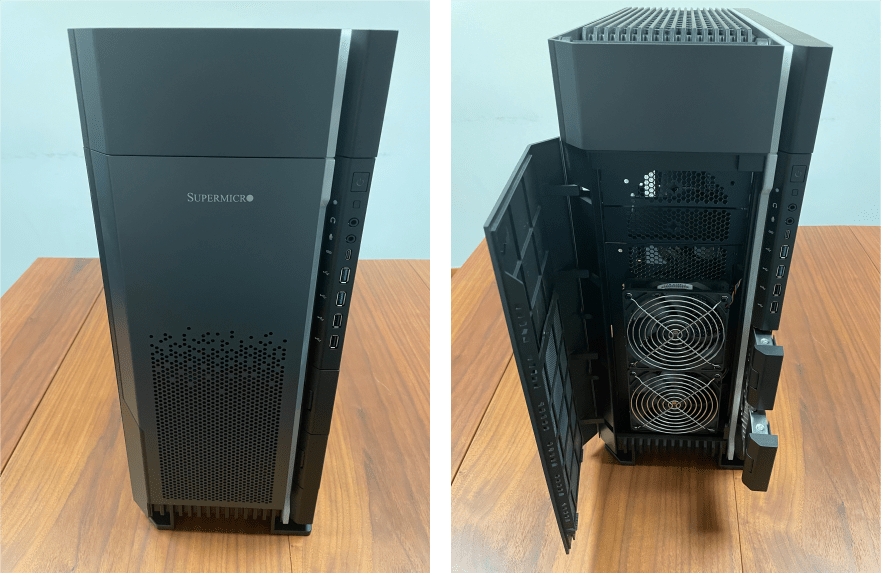 In our unit, Supermicro have included an optional tempered glass size panel, however the workstation is shipped with solid steel panel as standard. The side panel is secured with two tool-less screws and an additional locking mechanism that can be released by simply pressing the button at the rear of the chassis.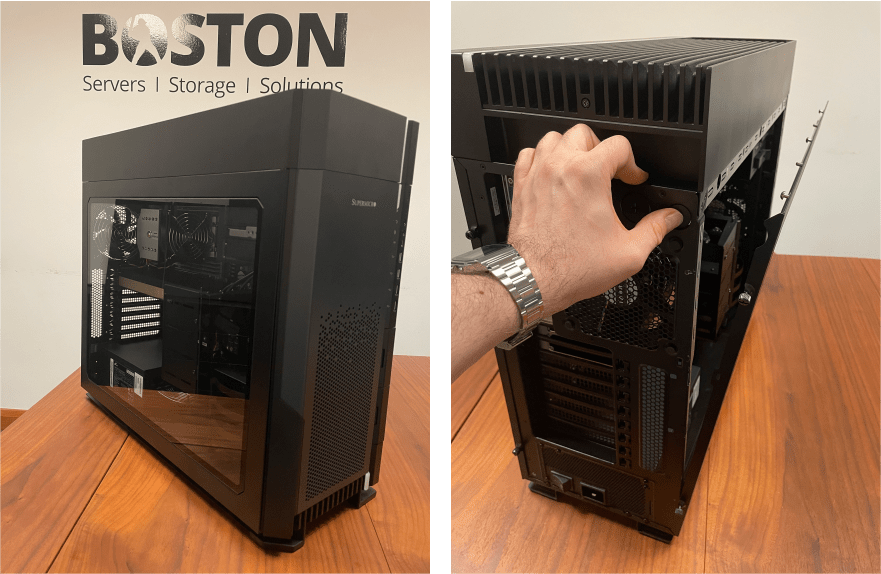 At the rear, we have access to the motherboard I/O ports and those from the expansion cards. As the system comes with a 2000W PSU, it uses chunky C19 power, allowing more current to be delivered in.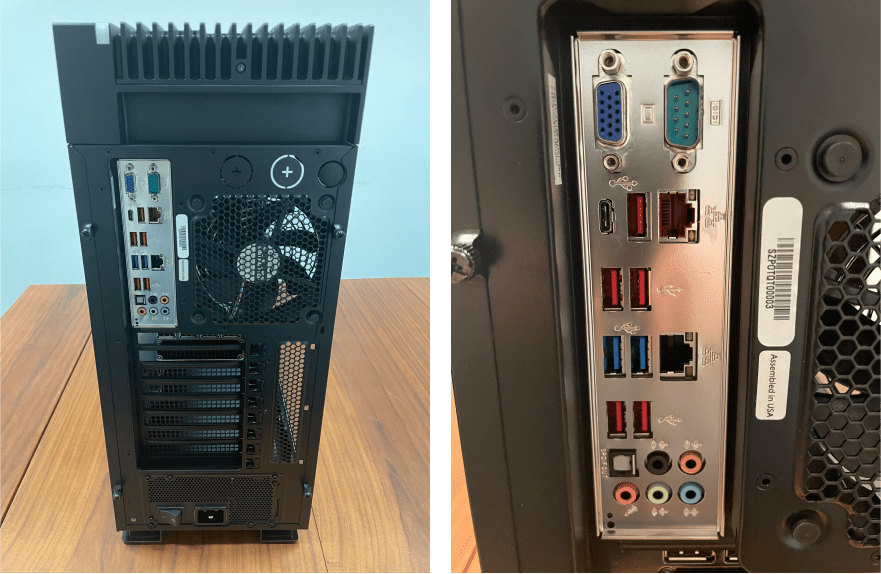 On top, there is a heavy-duty handle that helps move the workstation around. Behind the grille there is a dedicated space to house a radiator for the optional liquid cooling system for the CPU. Supermicro tells us that this is still in development and will be released later in the year. Currently, the workstation is shipped with the high-performance air-cooler, Supermicro SNK-P0064AP4 instead.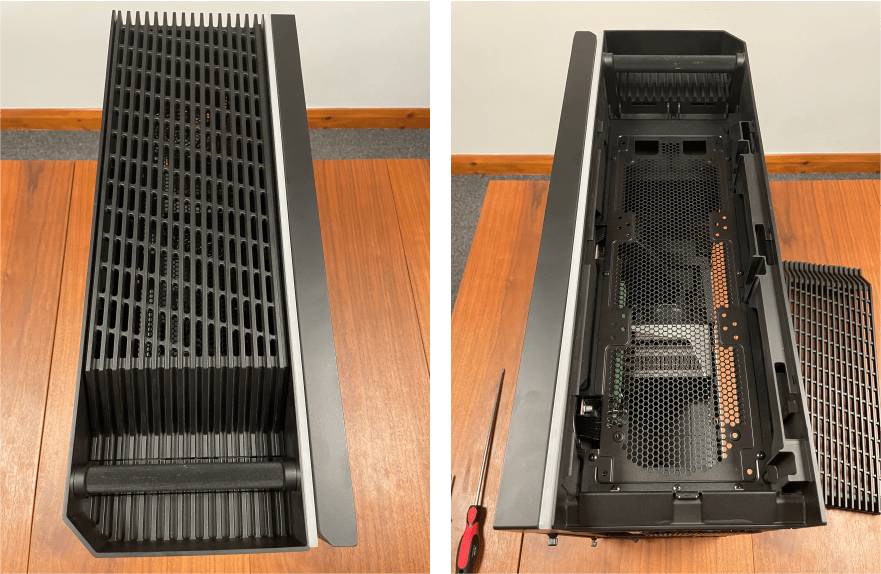 AS-5014A-TT – interior
Finally, what is inside? Our workstation has been kitted with a 32-core 3975WX CPU, 256GB of DDR4-3200 ECC Registered memory, two 1TB PCIe NVMe M.2 SSD's and an NVIDIA A6000 GPU.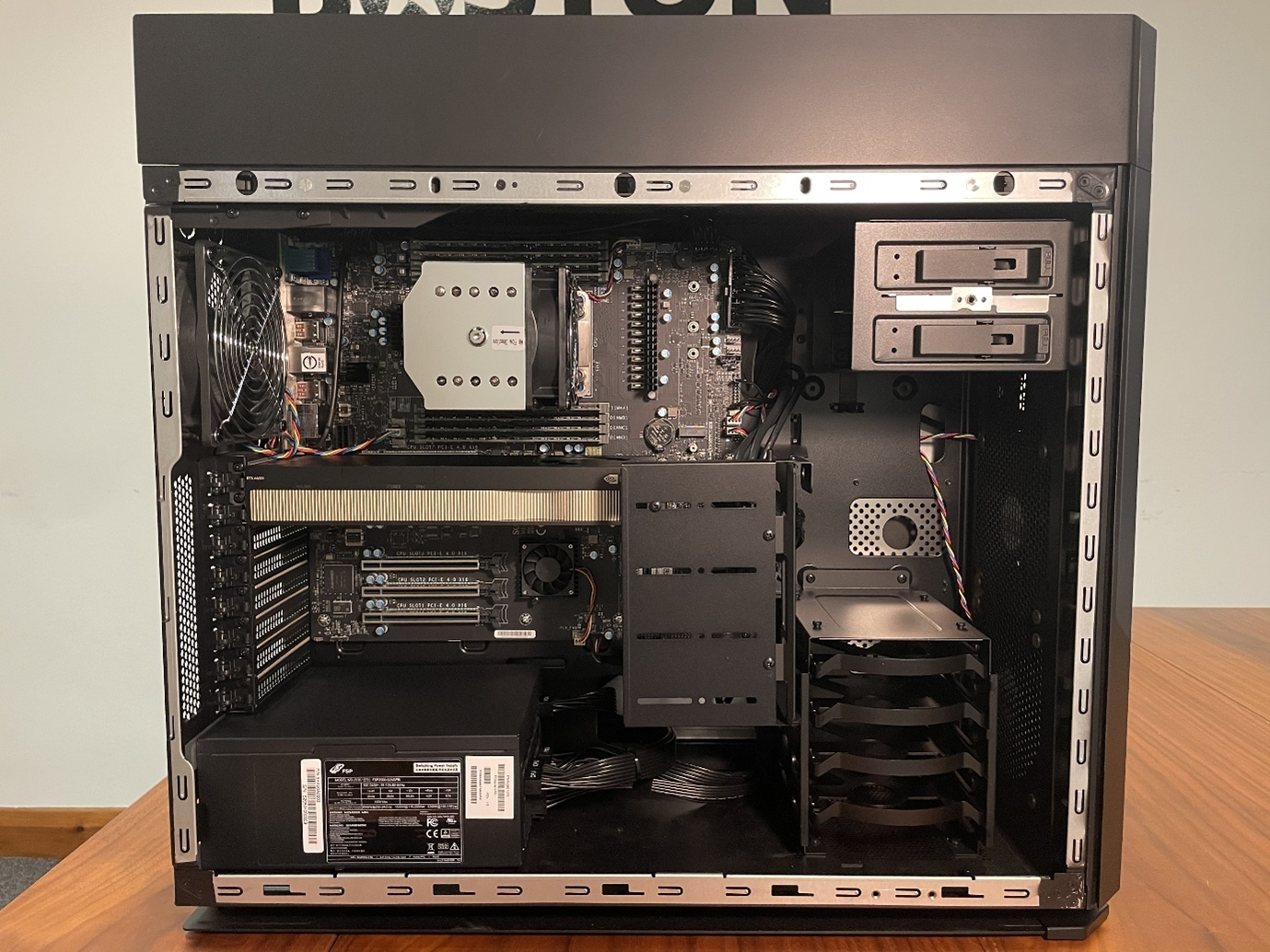 The build quality is good, but in our opinion the cable management could be improved. Fortunately, the workstation comes with modular power supply, so excessive cables have not been connected and were placed in an accessory box.
The AS-5014A-TT has an excellent expandability option too. It supports the AMD Ryzen Threadripper Pro CPU with up to 64 cores / 128 threads and 2TB of DDR4-3200 in 8 DIMM slots. Thanks to six PCIe 4.0 x16 slots and eight card expansion slots in the chassis, it is the first Threadripper Pro workstation on the market that can support up to four double-width GPU's such us NVIDIA A6000 and GeForce RTX3090 or six single-width such as A4000. The add-in card support bracket keeps your precious GPU's steady and secured during shipping.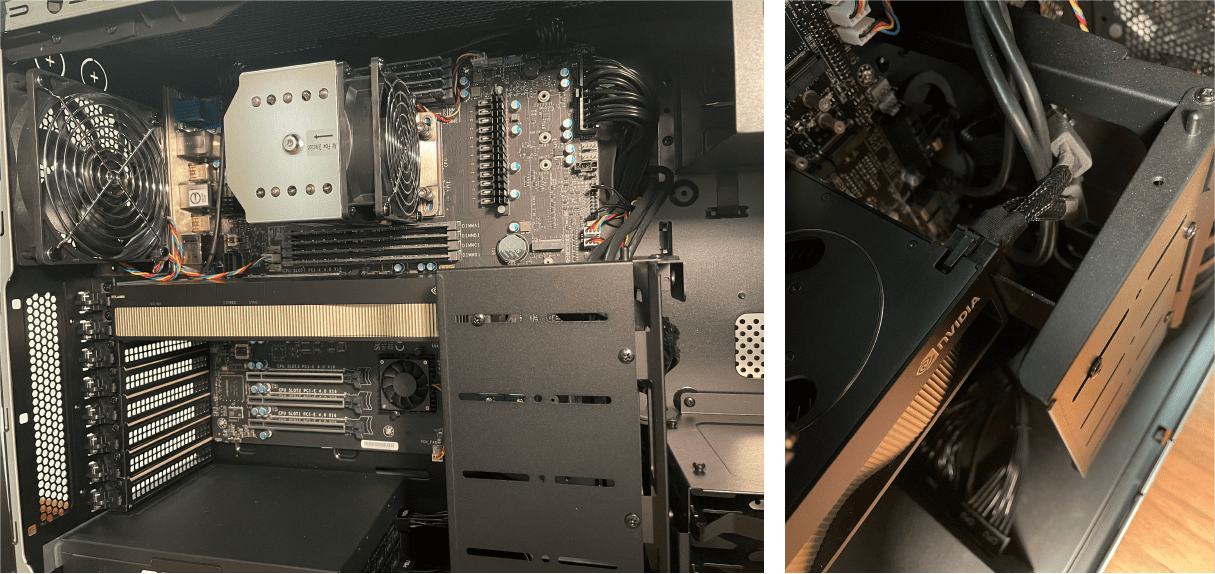 The AS-5014A-TT comes with versatile storage options – it can support up to four PCIe 4.0 x4 M.2 NVMe SSD's directly off the motherboard, the U.2 NVMe SSD's can be fitted in with the optional kit that is being sold separately. In addition to two 2.5'' SATA bays that are accessible from the front of the chassis, there are four 3.5'' internal tool-less drive bays for additional storage capacity. The workstation is powered by high efficiency 2000W FSP Platinum level PSU.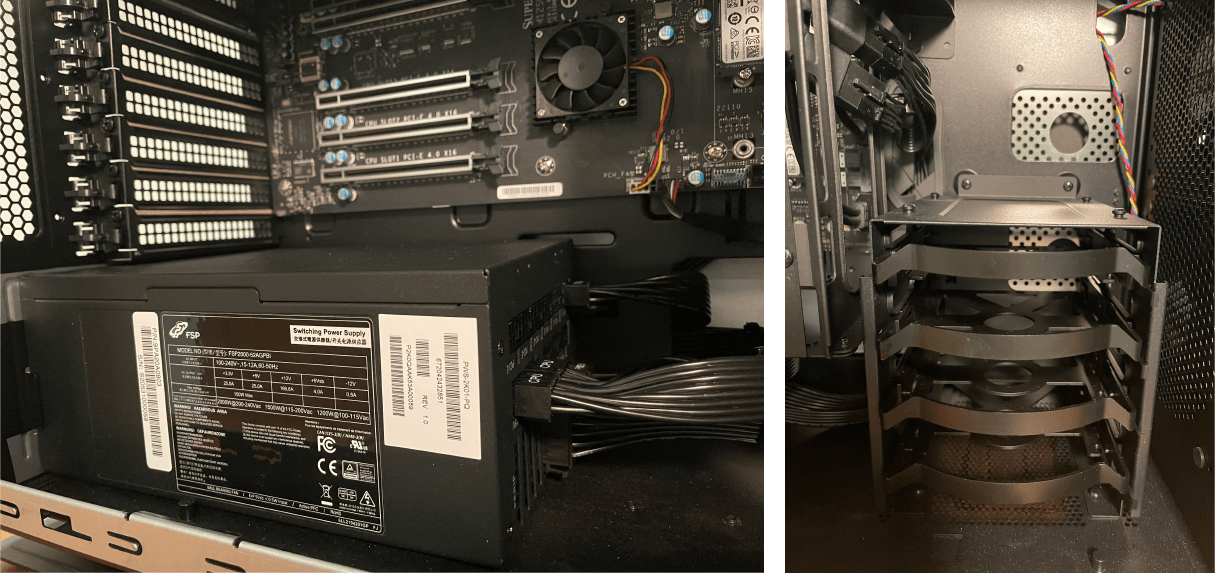 Summary
Overall, we were very impressed by the system and have found it to be very solidly built, feature rich and incredibly good looking. Due to the size, it's easy to work on and has great cooling with air cooling or liquid cooling options.
Combined with the right components, the AS-5014A-TT is one of the most powerful workstations available on the market today and would be perfect for power users with heavy lifting tasks including rendering, 3D visualisation, video editing and even scientific personal supercomputing.
AS-5014A-TT - detailed specs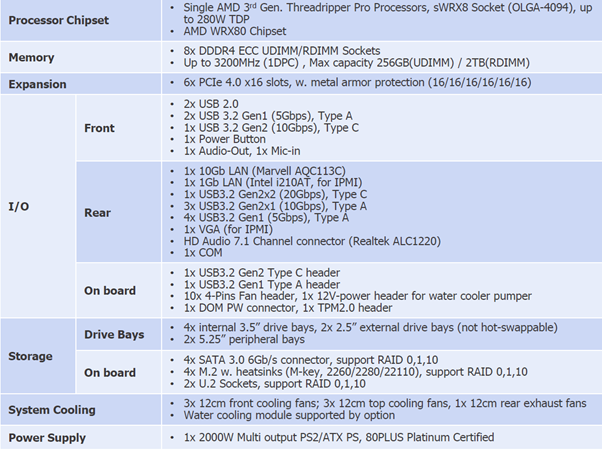 Boston Labs is all about enabling our customers to make informed decisions in selecting the right hardware, software and overall solution for their specific challenges. If you'd like to request a test drive of the Supermicro AS-5014A-TT and AMD Ryzen Threadripper Pro processors, please get in contact by emailing [email protected] or call us on 01727 876100 and one of our experienced sales engineers will gladly guide you through building the perfect solution just for you.
Written by:
Tom Michalski, Senior FAE at Boston Limited