Posted on 05 November, 2020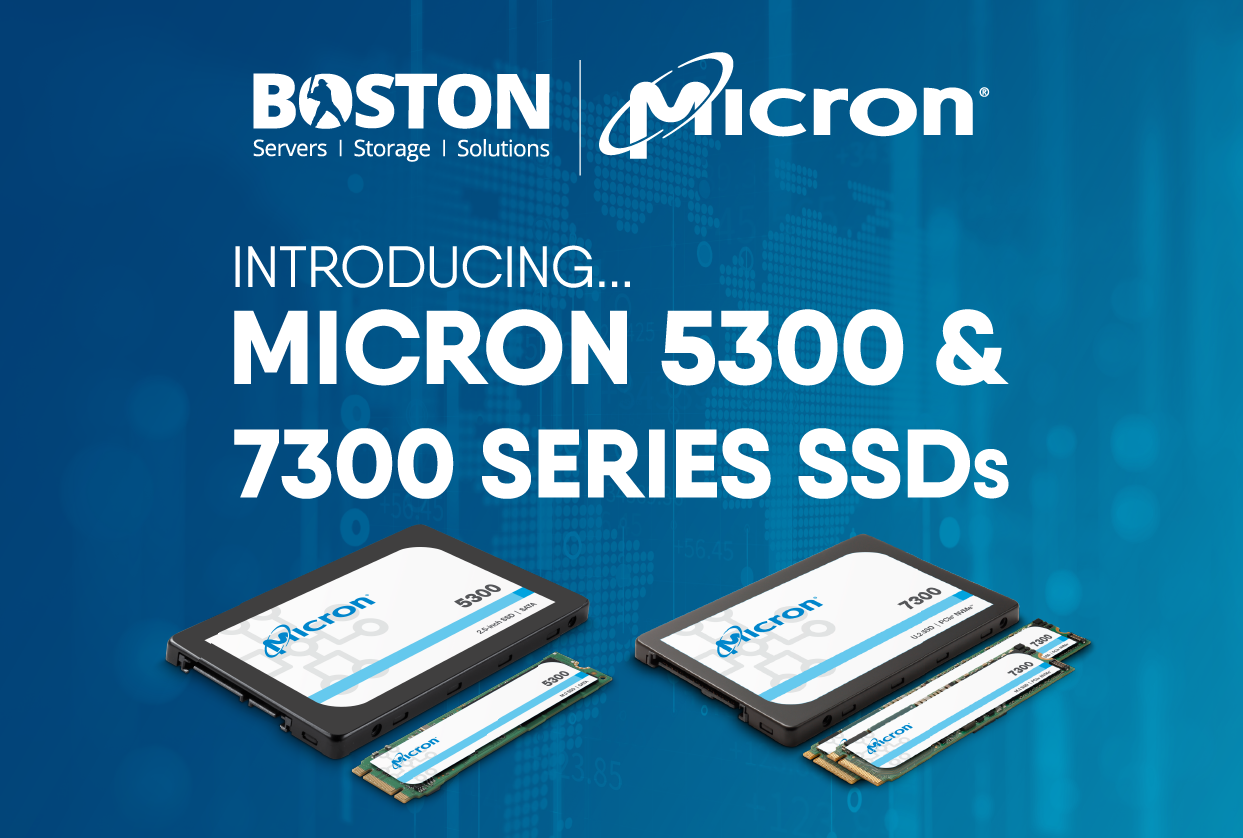 The Micron 5300 series of SATA SSDs brings you the latest 3D NAND technology with everything you expect from Micron's SATA portfolio, which is the broadest in the industry. The performance, consistency and expanded data security of these SSDs can help modernise your racks, stacks and server arrays!
Benefits:
The Next Evolution in SATA Leadership
Expand your capability with the industry's first 96-layer 3D TLC NAND in the data centre.
Solid Data Security
Secure your data with power-loss protection, and data centre-grade data path protection along with optional TCG Opal 2.0, TCG Enterprise and AES 256-bit encryption.
Strong Read-Intensive, Mixed-Use Performance
Optimizations drive strong performance for media streaming, business analytics, OLTP and block and object storage.
Broadest SATA portfolio
Micron's market-leading data centre SATA SSD options range from 240GB boot drives to high-capacty 7.68TB SSDs.
Download the datasheet for more information here.

Get end-to-end NVMe - from system startup to caching to main data storage. The Micron 7300 NVMe SSDs are the solution for data centre infrastructures, whether you're booting, storing or caching. From data centre IT to performance in the cloud, expand the benefits of NVMe across your data centre with Micron's 7300 SSDs.
Benefits:
Extreme Value and Great TCO
96-layer 3D TLC NAND offers low power and designed-in cost efficiencies.
NVMe Performance; Approachable Price Point
Get up to 6X the performance of data centre SATA SSDs at comparable prices.
Scalable Cloud Support
Leverage the low-latency and high-performance combination that the cloud demands.
Platform Flexibility
Choose from simple, scalable, in-platform single port storage or dual port configuration for dual controller designs.
Download the datasheet for more information here.
To find out more about Micron NVMe SSDs, contact our Sales team on [email protected] or call us on 01727 876100.