Posted on 26 June, 2020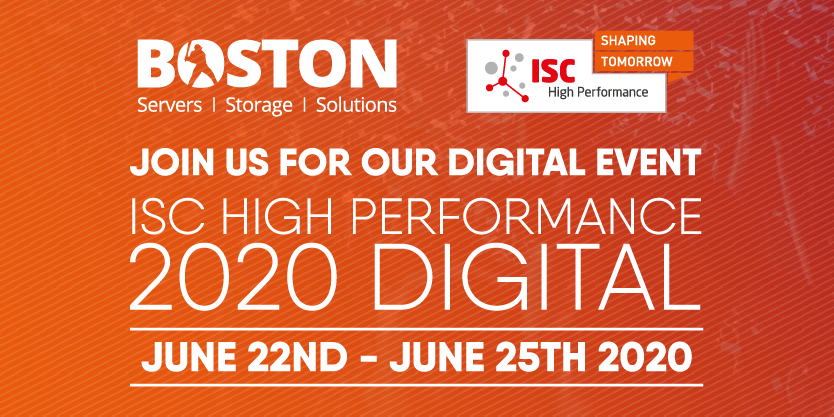 Newly launched AMD High Frequency CPUs put to the test at Boston Labs

AMD recently announced the extension of their 2nd Gen AMD EPYC™ processor family with three new processors that can leverage up to 500 MHz of additional base frequency, and large amounts of cache – this makes AMD EPYC™ the world's highest per core performance x86 server CPU*.[i]
There's no doubting that the advent of AMD EPYC processors has totally disrupted the CPU space, and these three new CPU additions are a tempting option for database, commercial high-performance computing (HPC) and hyperconverged infrastructure workloads.
The performance of these new AMD EPYC™ 7Fx2 CPUs comes from a balanced architecture that combines high-performance "Zen 2" cores, and innovations in system design like PCIe® 4 and DDR4-3200 memory. The AMD Infinity architecture provides customers with optimum system performance enabling better real-world application performance.
AMD EPYC™ 7Fx2 Family
| Processor | Cores/Threads | TDP (Watts) | Base Freq/Max Boost Freq | Total L3 Cache | L3 Cache per Core |
| --- | --- | --- | --- | --- | --- |
| 7F32 | 8/16 | 180W | 3.7 GHz/~3.9 GHz | 128MB | 16MB |
| 7F52 | 16/32 | 240W | 3.5 GHz/~3.9 GHz | 256MB | 16MB |
| 7F72 | 24/48 | 240W | 3.2 GHz/~3.7 GHz | 192MB | 8MB |
In terms of what we should expect from EPYC™ 7Fx2 here is how the benchmarks line up according to AMD.
For database workloads, you should expect new performance capabilities for workloads with up to 17% higher SQL Server® performance[i] compared to the competition.
For commercial high-performance computing (HPC) workloads; you'll should be seeing up to 94%[ii] higher per core computational fluid dynamics individual application performance compared to the competition.
For hyperconverged infrastructure workloads; AMD EPYC™ 7Fx2 processors provide better hyperconverged infrastructure performance with up to 47% higher VMmark® 3.1 score (using vSAN™ as the storage tier in a 4-node cluster) compared to the competition – this is a new world record[iii]!
We've had the 16-core/32-thread AMD EPYC 7F52 CPU at Boston Labs recently and took the opportunity to run some benchmarks on them to see how they perform for ourselves
Focusing on just one Benchmark from our suite of tests (Cinebench R20), we can draw some initial comparisons against some other server grade CPUs.
For the Cinebench multi core test (seen below), the AMD CPU punches above its weight and outperforms the same core/turbo 6226R and even the 6240R despite this sku having 8 extra cores per CPU. The 7F52 manages this with the higher base frequency and by allowing more cores to turbo at higher frequencies. The AMD EPYC 7302 also has 16 cores but the higher frequency of the 7F52 gives it the big advantage.

The boosted clock speed in these CPU's will be great for applications and workloads that favour a balance of cores and frequency but with an emphasis on the latter. We will soon be diving deeper into benchmarking these CPU's in our labs, look forward to the follow up blog post soon!
As Supermicro distributors, Boston are pleased to see Supermicro launch its first SuperBlade platform based on 2nd Gen AMD EPYC™ with immediate support for the new AMD EPYC™ 7Fx2 processors. Fans of the SuperBlade will already know that the range is ideal for HPC and database applications with a number of drive, memory and enclosure options to choose from. These latest SKUs offer extremely dense nodes with NVMe and GPU options too!

*AMD EPYC™ 7F32 SPECrate®2017_fp_base score
[i] Highest per core performance in the world based on EPYC 7F32 (8-cores) having the highest SPECrate®2017_fp_base score divided by total core count, of all SPEC® publications as of 4/14/2020. 2x EPYC 7F32 (8-cores) scoring 12.75 base result per core (204 SPECrate®2017_fp_base/16 total cores, www.spec.org/cpu2017/results/res2020q2/cpu2017-20200316-21244.pdf) compared to the next highest result 1x AMD EPYC 7262 (8-cores) scoring 11.54 base result per core (92.3 SPECrate®2017_fp_base/8 total cores.
[ii] Max boost for AMD EPYC processors is the maximum frequency achievable by any single core on the processor under normal operating conditions for server systems. EPYC-18
[iii] Testing as of 3.20.2020 by AMD Performance Labs. Up to 17% higher SQL Server® tpm per core. Configurations: HammerDB 3.3 (TPC-C® profile - The workload is derived from the TPC-C Benchmark, and as such is not comparable to published TPC-C Benchmark results, as the OLTP workload results do not comply with the TPC-C benchmark). 2x EPYC 7F52 (32C total) scoring 4,872,975 tpm (152,280 tpm per core). 2x Xeon Gold 6244 (32C total) scoring 4,178,963 tpm (130,584 tpm per core). Results may vary. ROM-571
[iv] Based on AMD internal testing of ANSYS® CFX® 2019 R1 running Release 14.0 test cases as of 3/24/2020 on a 2x EPYC 7F52 (16C) powered reference server versus a 2x Intel Xeon Gold 6242 (16C) powered server. Results may vary. ROM-590
[v] 47% higher score amd 56% more tiles (VMs) based on VMmark® 3.1 vSAN™ comparing 2x EPYC 7F72 scoring 13.27 @ 14 tiles (266 VMs), https://www.vmware.com/content/dam/digitalmarketing/vmware/en/pdf/vmmark/2020-04-14-DellEMC-PowerEdge-R6525.pdf compared to the next highest competitive result on 2x Intel® Xeon® Platinum 8276L scoring 9.00 @ 9 tiles (171 VMs), https://www.vmware.com/content/dam/digitalmarketing/vmware/en/pdf/vmmark/2019-08-12-Hitachi-UCPHC-V124N.pdf). 47% higher score = 13.27/9 = 1.474x the score and 56% more tiles (VMs) = 14/9=1.555x the tiles (VMs) as of 4/14/20. VMmark® is a product of VMware, Inc. ROM-639