Posted on 01 May, 2020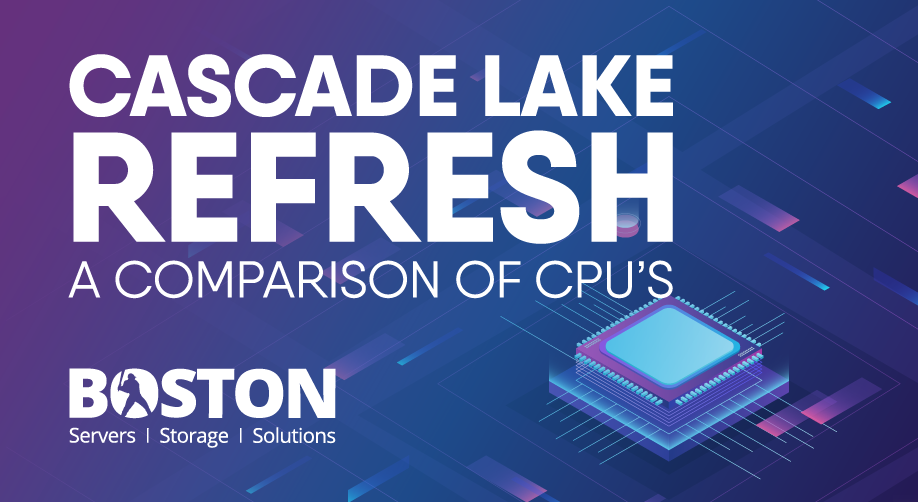 In February, Intel® launched a refresh of its Xeon® Scalable CPU family of processors. Codenamed the "Cascade Lake Refresh", this range of CPU's offers not only more performance but also a reduced cost per SKU when compared to the equivalent Cascade Lake CPU (pre-refresh). This gives us much improved performance-per-dollar figures for the new CPU's.
We have some of these CPU's in our Boston Labs and have been putting them through their paces. Today we will focus on the new Intel Gold 6248R SKU, and compare it to its predecessor the 6248. For this upgraded CPU Intel have upped the core count from 20 to 24 and the base clock from 2.5GHz to 3GHz. The turbo boost has also been increased too albeit by a minor amount from 3.9GHz to 4GHz. Intel have also increased the L3 cache from 27.50MB to 35.75MB. The cost of the 6248R has dropped compared to the 6248, from $3027 to $2700. So, Intel's goal is clear to see; improved performance via cores, speed and cache levels and all at a lower price point.
A table below shows some comparisons between the refresh and older SKU CPU's.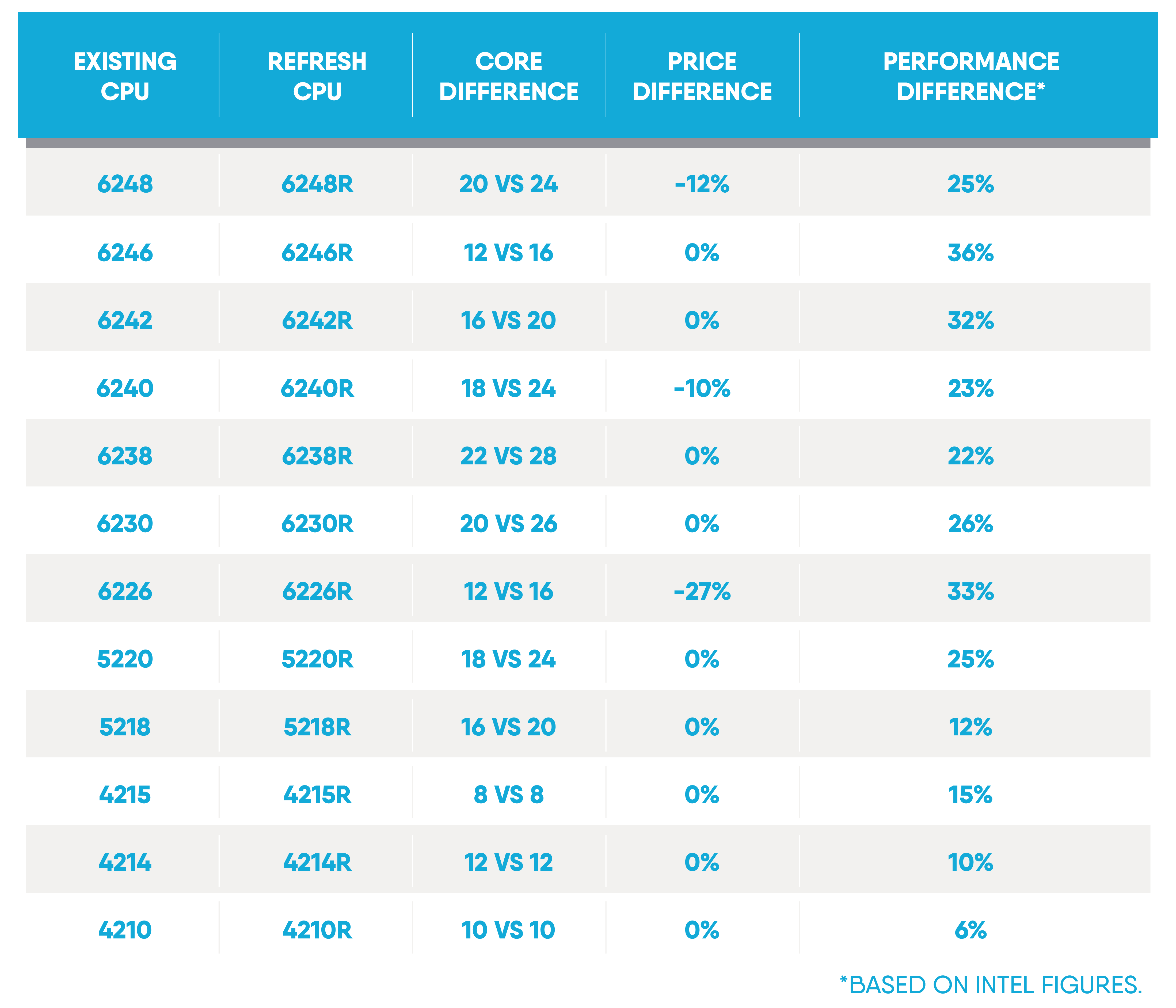 As can be seen here, with the direct replacements there typically is not a big (or any) price decrease across the board but the performance difference is certainly there. Where things get further interesting is the equivalent CPU comparisons. These are where we can compare a standard Cascade Lake CPU with an equivalent refresh CPU that has the same core count and similar clock speeds. This comparison can be seen below.
Equivalent Replacement Comparison

A clear example of Intel's new price vs performance strategy is the new 6258R CPU, which has 28 cores and 56 threads, it runs at 2.7GHz base frequency with a max turbo of 4GHz. The 8280M you will notice has very similar specs, the same cores, threads and clock speeds. Both CPU's also are 205W TDP and have the same level cache. In fact, the only difference is that the 8280M supports 2TB of memory per CPU vs 1TB on the 6258R and it will support 8 socket server SKU's whereas the 6258R is limited to dual socket only. The big point to make here, however is the price difference. The 8280M has s a $13,012.00 price tag whereas the 6258R is $3950.00. That is a huge difference for essentially the same spec CPU! So outside of very specific workloads where more sockets and more memory are required, the difference in price vs performance is staggering and really epitomises Intel's strategy. We look forward to updating this article when we can get some 6258R vs 8280M benchmarks completed as well as other CPU's in the range!
Benchmarks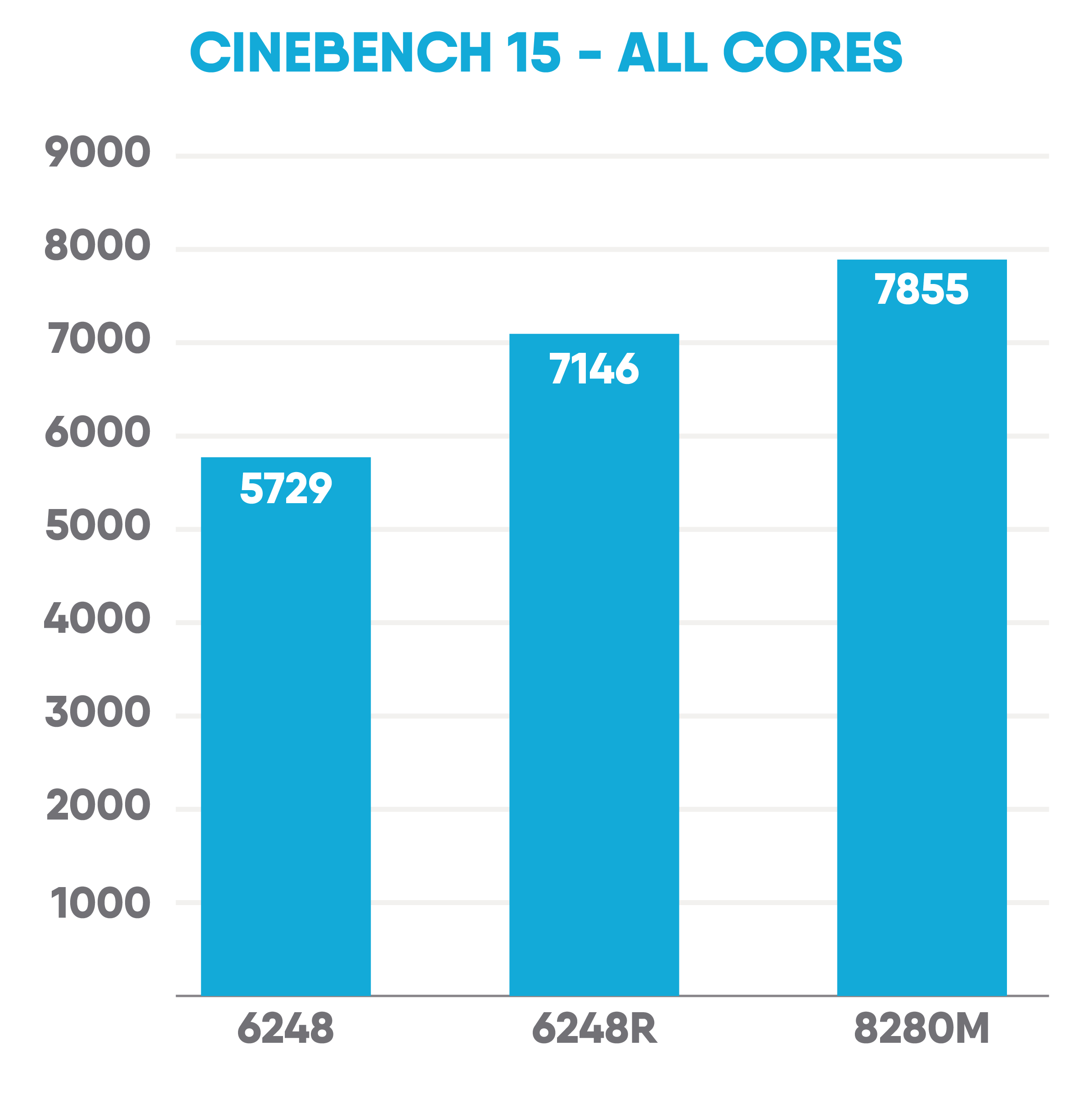 Back to the benchmarks, our test system is a Supermicro® 1U 6019U-TR4 server with 12x 32GB DDR4 (384GB) modules running at 2933MHz. We will be comparing the 6248R with the 6248, as well as with a higher end Platinum SKU CPU, 8280M which has 28 cores per CPU and a base/turbo of 2.7GHz/4GHz.
We began with the Cinebench 15 benchmark tool, this runs a multi core CPU test, the figures are pretty much as expected. The 8280 does have more cores but still the 6248R is approaching the performance levels whilst also easily outperforming the 6248.
A similar trend is seen with SiSoftware's SANDRA™ benchmarking suite, the 28 core 8280M leads the pack but the 6248R again comes close in most tests.
When looking at the LINPACK scores, the 6248R outpaces its predecessor with ease, showing a ~15% increase. Here the 8280M, however, keeps well ahead with its higher core and thread count showing a bigger difference.
More importantly, as mentioned in this blog already, Intel are being aggressive in their pricing for this refresh, the below table shows the LINPACK performance vs the dollar cost of the CPU's. As you can see you get a lot more bang for your buck with the 6248R. It scores 0.4GFLOPs per dollar, this is a big jump when compared to the 6248 and a huge increase from the Platinum 8280M, which has a per CPU cost of $13012.
Final Thoughts
In conclusion, looking at this small sample we can see a Cascade Lake Refresh Intel Xeon Gold CPU easily outperforming the previous equivalent, and in some cases pushing the platinum series too. Does this mean some of the Xeon Platinum range may not be able to compete with the refresh CPU's? This will depend on the use case as the Platinum series is the only range that will support 8 socket servers. Still, it is interesting to see Intel's changing strategy, especially with regards to pricing as it faces strong competition from AMD®. It will be interesting to see what the future holds for the server CPU market.
We plan to benchmark further CPU's and update this article. For any enquiries and remote testing on these and many other systems, please contact us for more details. We can tailor bespoke systems so you can run specific workloads remotely in our Boston Lab facility.
Interested to test the performance for yoursef? Boston have a large number of 2nd Generation Intel® Xeon® Scalable Family CPUs at our labs facility that are ready to be tested by YOU! Register your interest to test these or any of our other solutions or components using the form below.