Posted on 25 November, 2019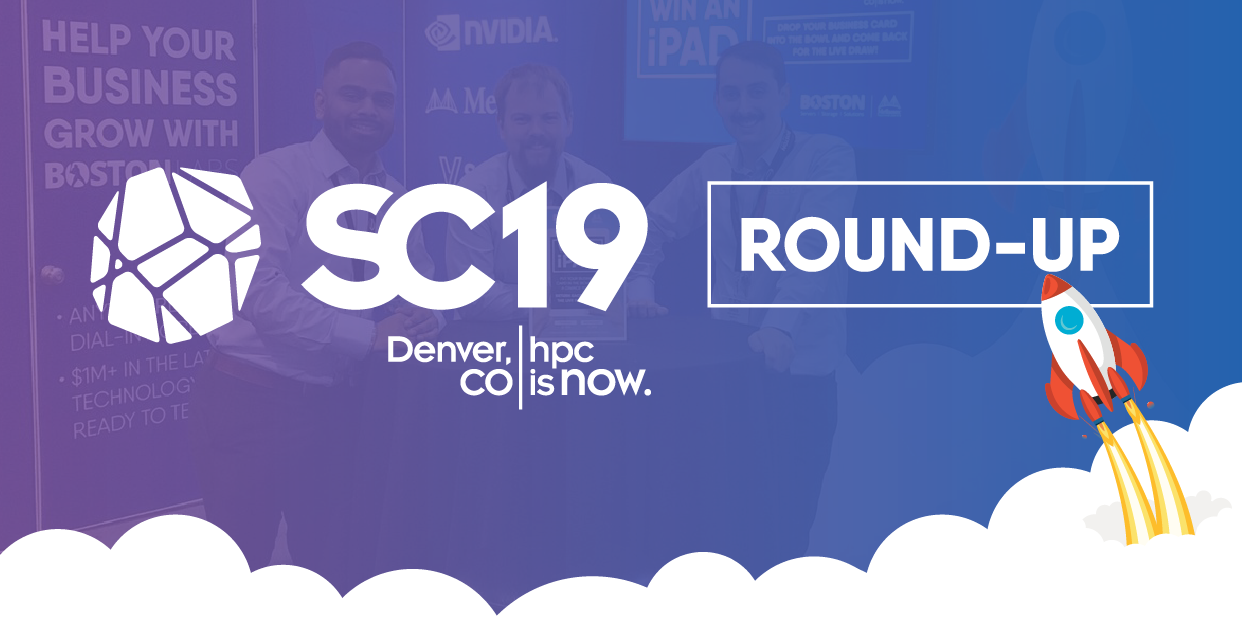 Supercomputing is over for another year!

We close the book on another successful Supercomputing Conference with many new solutions and a live demo on our stand. Continue reading below for a short overview to find out what you might have missed.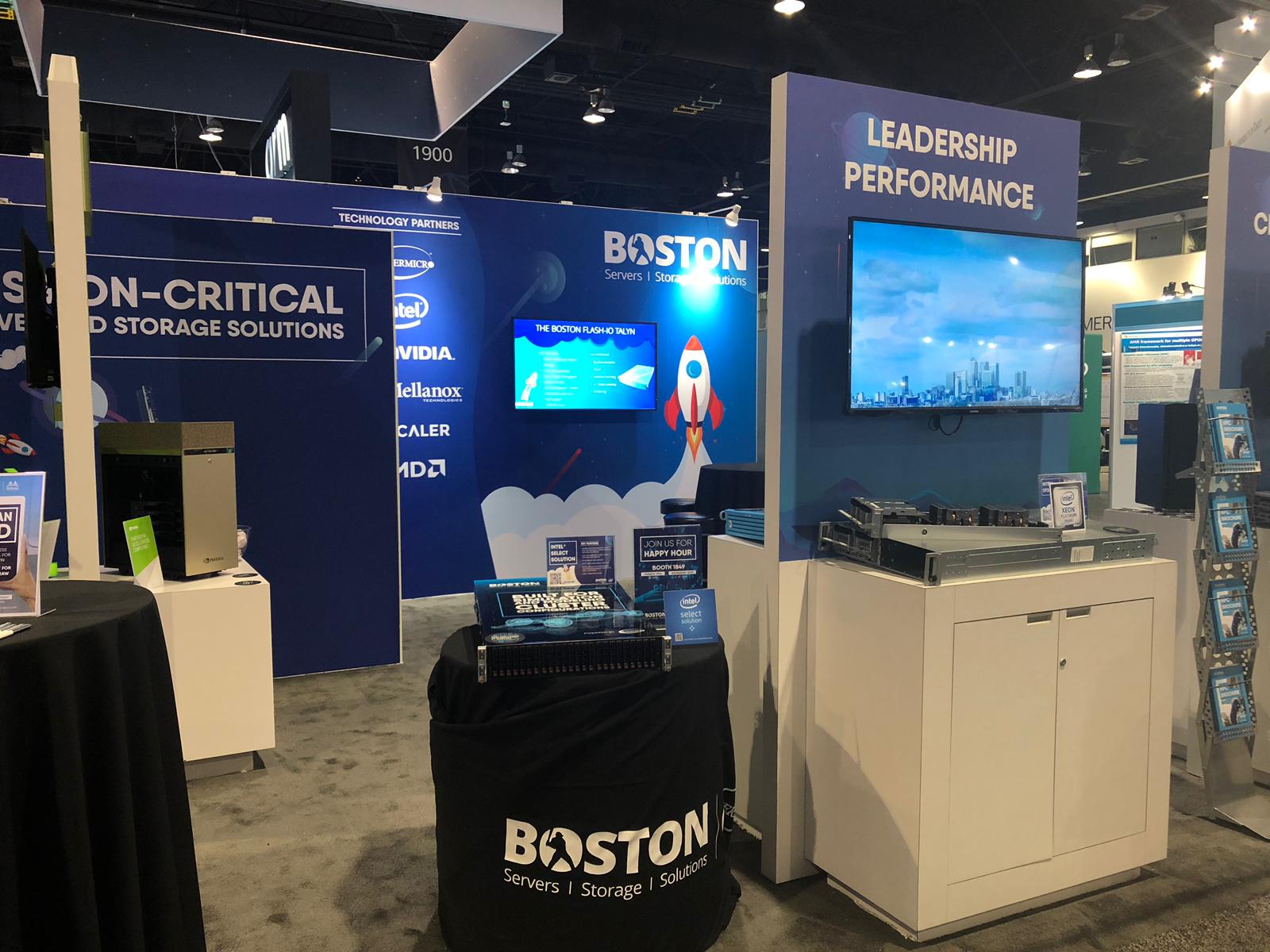 On the stand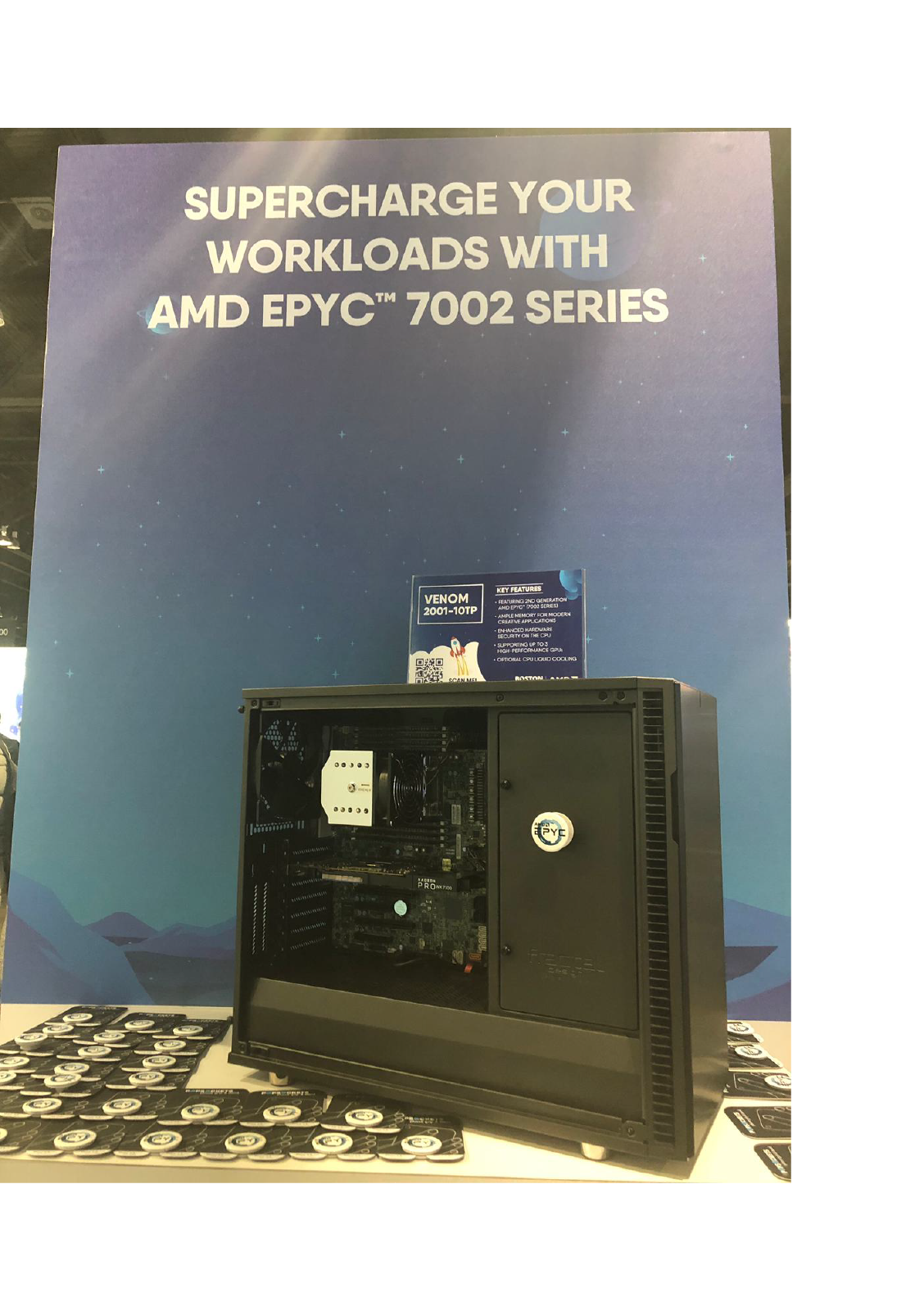 Making its debut at SC19 was The Boston Venom 2001-10TP! Powered by a single AMD EPYC™ 7002 series processor, this high-performance workstation for the masses combines a sleek modern chassis design with the computing power to satisfy the demands of modern creative applications. With an impressive range of attributes, the Boston Venom 2001-10TP is a great platform for 2D/3D CAD, simulations, and CFD and supports up to 3 AMD or NVIDIA® graphic cards for GPU intensive workloads.

If you didn't get the chance to stop by our stand, you can test this workstation at our Boston Labs where our team can answer any questions you may have.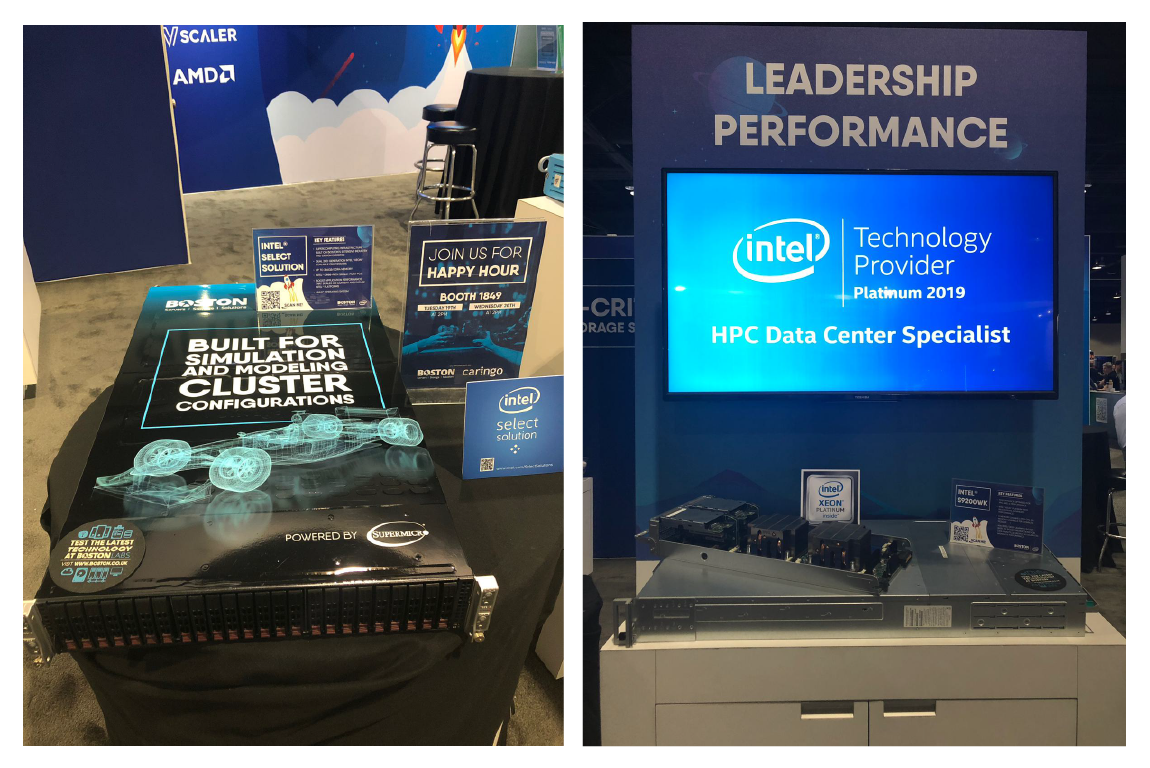 This year we had not only 1 but 2 Intel® solutions on our stand! The Intel® S9200WK is a purpose-built, performance-optimised data centre block which is ideal for use in high-performance computing (HPC) and AI applications. Designed for the Intel® Xeon® Platinum 9200 series processors, the S9200WK family maximises processor and memory bandwidth to provide leadership performance for the most demanding compute use requirements.
Also on our stand, we were proud to show we are accredited as an Intel® Select Solution partner for Simulation and Modeling. These Intel-verified solutions are aimed to speed selection and deployment of data centre and communications network infrastructure. Our Intel® Select Solution is the fastest path to infrastructure transformation!
Both systems have increased compute power available for work and research in AI and HPC verticals including Physics, CAE, CFD and more.
Intel® unveiled oneAPI - designed to deliver a unified programming model to simplify application development across diverse computing architectures. oneAPI simplifies the programming of diverse architectures - CPUs, GPUs, FPGAs, AI accelerators - to meet customer workload needs. Keep your eyes peeled for our announcement about testing oneAPI at Boston Labs!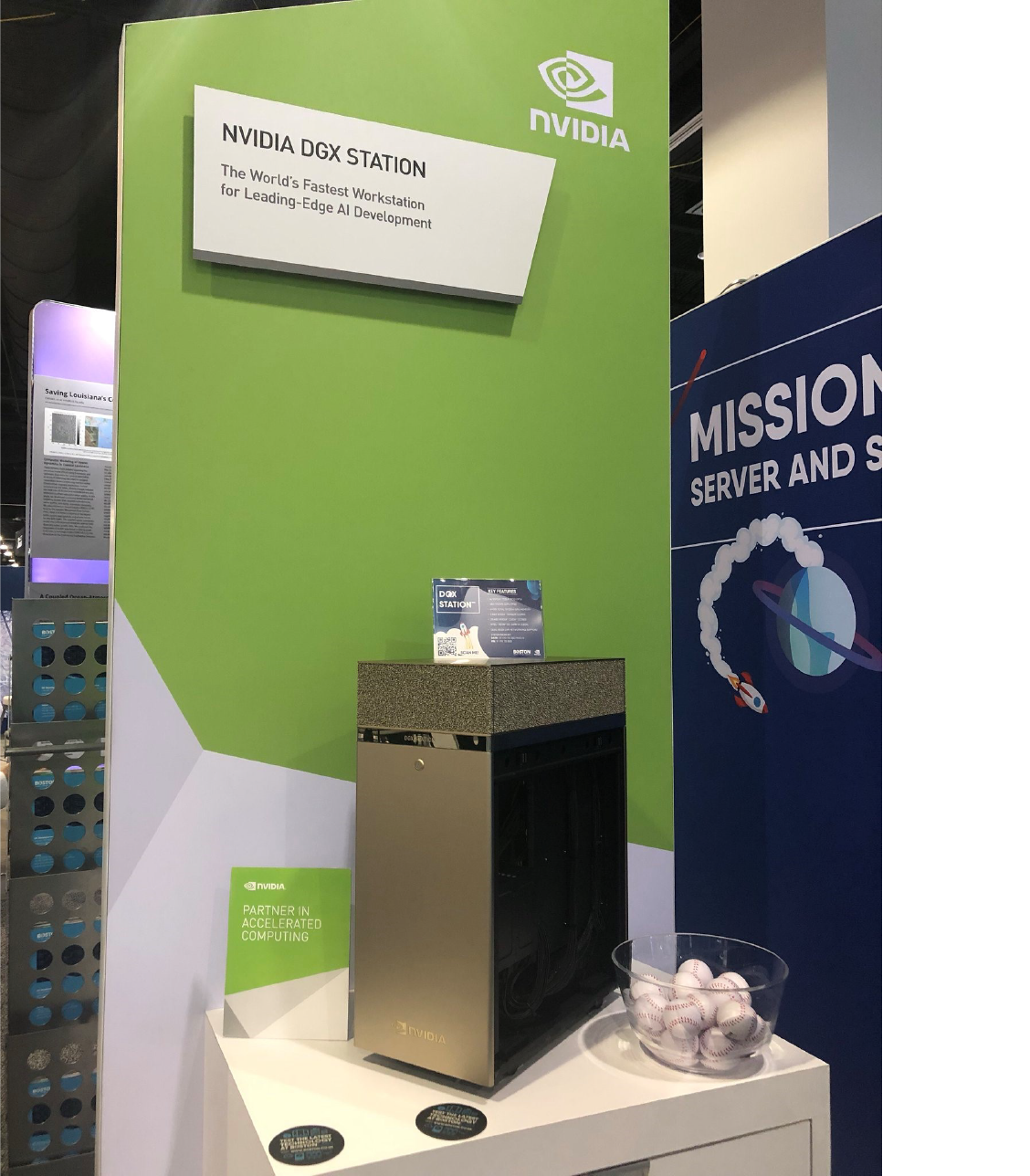 In case you missed it, NVIDIA kicked off SC19 with a keynote. During this they showed a live CFD demo on GPU and explored the optimum shape of a heat sink for cooling within a server. On our stand we had the Molecular Visualisation Demo (VMD) from the keynote, on the NVIDIA® DGX-Station™; the world's first personal supercomputer for leading-edge AI development. This demo showed VMD visualising sub-cellular and cell-scale models in atomic detail, using high-fidelity interactive ray tracing, based on NVIDIA's OptiX ray-tracing framework and CUDA GPU programming language.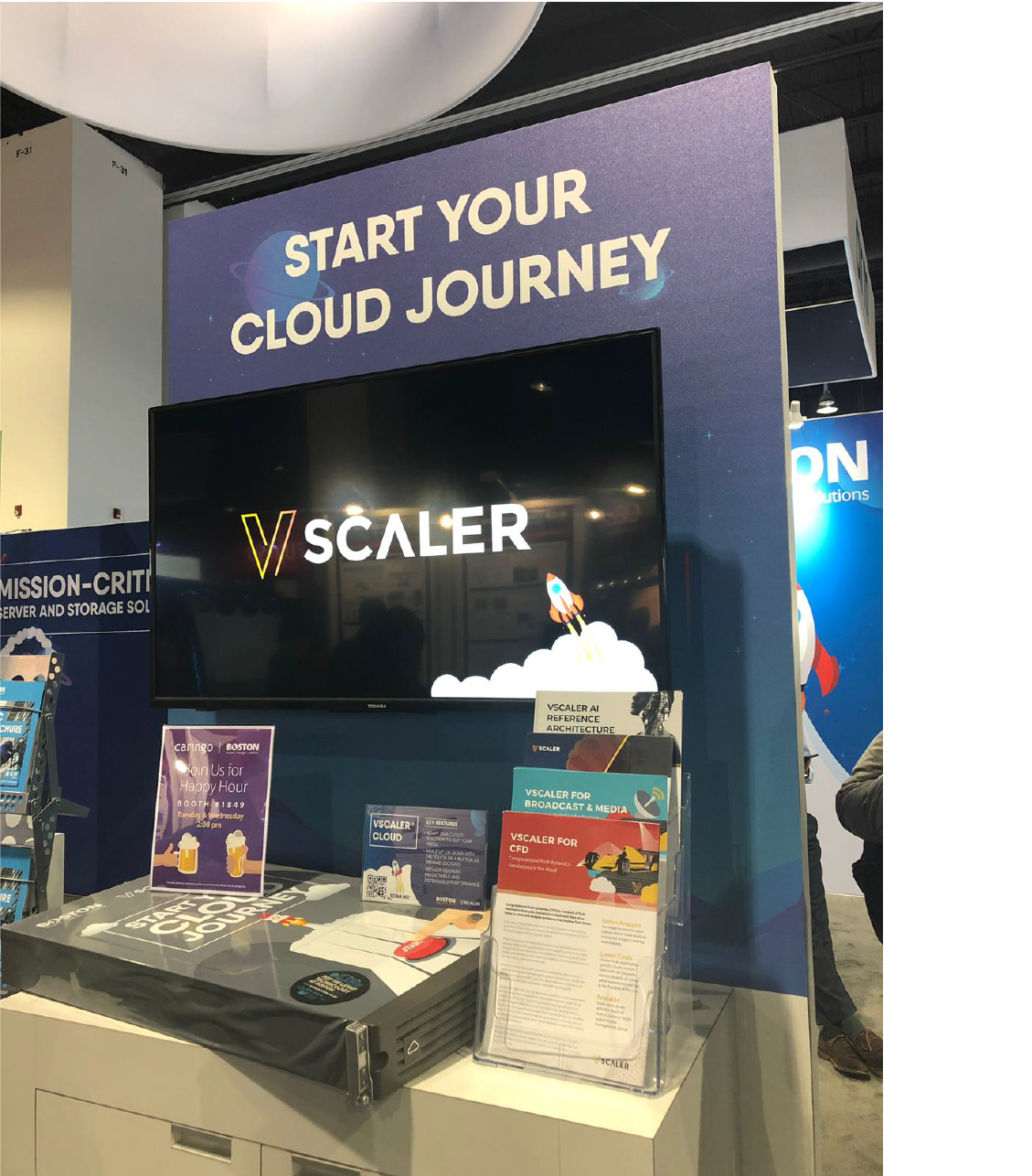 We were also joined on our stand by our cloud partner, vScaler. Combining computational performance, scalable storage and advanced networking, vScaler can provide you with the most versatile cloud solution available! With vScaler, you can deploy your on-premise private cloud in minutes, add cloud-based services and applications and scale to public and hybrid cloud environments on-demand. Start your cloud journey with this powerful hybrid cloud appliance today.
Finally, we would like to thank all of our sponsors for Supercomputing; Supermicro®, AMD, Intel®, NVIDIA® and vScaler. We would also like to extend our thanks to Mellanox® for sponsoring our competition to win an iPad. Congratulations to all of our winners!
All of the solutions on our stand are available for testing at our Boston Labs. Contact us to enquire about testing today!
We look forward to seeing you next year at SC20!