Posted on 04 January, 2023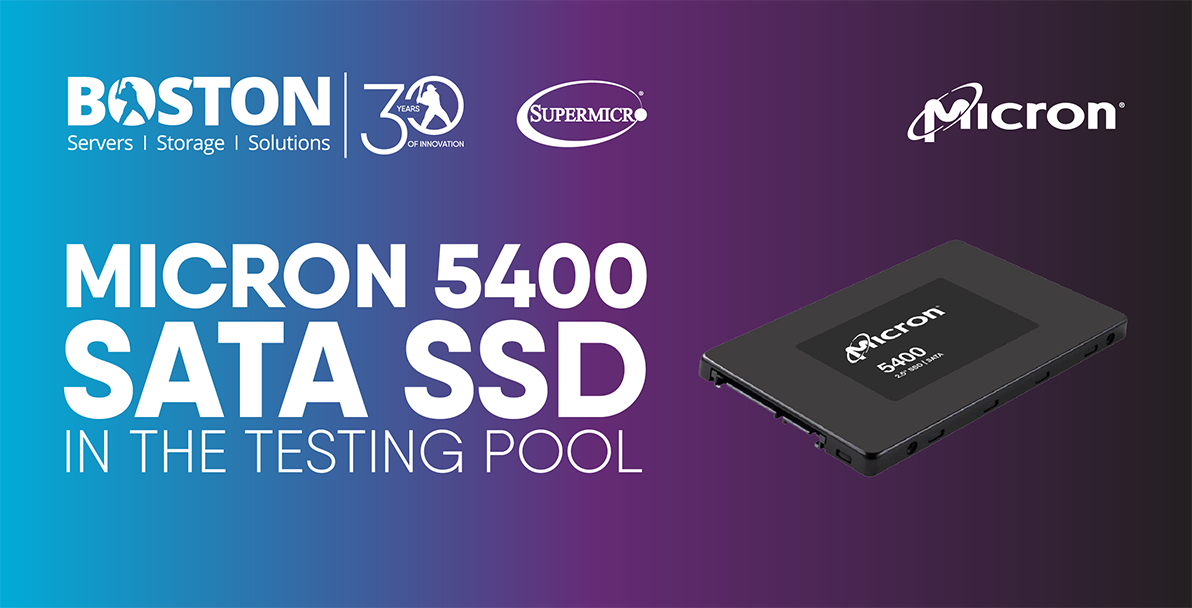 Boston Labs is excited to announce the arrival of the new Micron 5400 PRO SATA SSD to our enterprise test drive pool
The Micron 5400 is designed for mainstream use in datacentre and cloud workloads and is the first of its kind to be built with 176-layer triple-level cell (TLC) 3D mass-production NAND and a SATA 6Gb/s interface. The use of this ultra-dense NAND technology is not new to Micron's SSD portfolio, as it has already been shipping in their 7450 NVMe SSD range and has proven to be a stable and reliable architecture. The transition to 176-layer 3D NAND technology has allowed Micron to increase capacity, improve endurance, and reduce manufacturing costs.
This 11th generation of Micron's SATA drive comes in two form factors:
2.5-inch (7mm)
M.2 (22x80mm)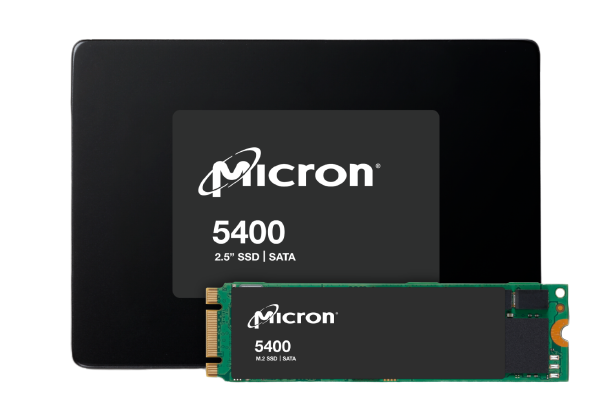 Above: the two form factors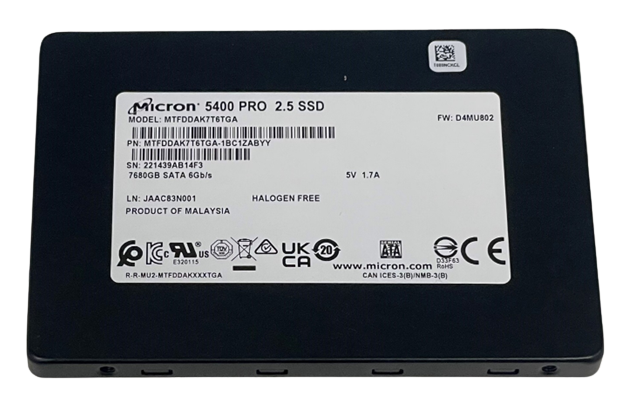 Above: 7.68TB Micron 5400 PRO SATA SSD's at Boston Labs
The Micron 5400 SSD's are available in a range of capacities, starting at 240GB and going up to a massive 7.6TB, depending on the form factor. It also offers three endurance options.
BOOT: This option is meant to be used as an operating system boot drive and has the lowest capacity point, with up to 1DWPD (full drive writes per day)
PRO: This option is designed for read-intensive workloads and offers up to 1.5DWPD, with the exception of the 7.68TB model, which offers up to 0.6DWPD
MAX: This option is suitable for mixed-use workloads and offers up to 5DWPD over 5 years, with the exception of the 3.84TB model, which offers up to 3.4DWPD
Some may wonder why Micron offers slightly reduced endurance on the top capacity PRO and MAX models. The reason is that these drives are not intended for use in write-intensive applications and were designed with maximum capacity as the primary focus. Ability of writing 4.6TB to 7.68TB SSD in read-intensive workloads and more than 13TB on to 3.84TB SSD in mixed-use scenarios every day over five years is more than enough.
Full specs of 5400 series SSD's along with the performance figures can be found in the below table.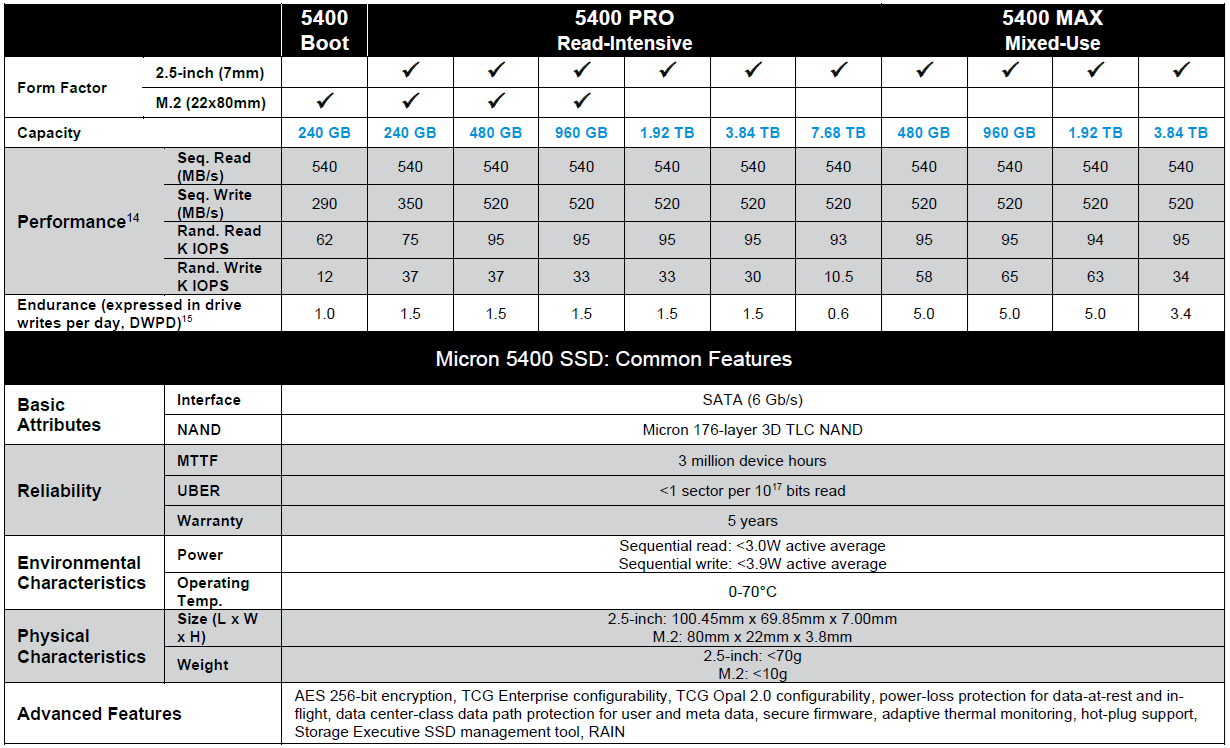 Pic: Micron 5400 specification
The Micron 5400 comes in three security flavours - SED (self-encrypting-drive) TCG Opal SSC, SED TCG Enterprise SSC or a non-SED. The below part number decoder will help you to identify the meaning behind of each character in the product part number.
Above: Micron 5400 series part number decoder
To test the performance of the Micron 5400 Pro SSD's, we used a system available in Boston Labs, the Supermicro SYS-620U-TNR from Supermicro's Ultra server range, based on the latest Intel's 3rd Gen Scalable Processor series (Ice Lake). The server comes with 12 hybrid drive bays supporting SATA, SAS as well as PCIe 4.0 NVMe SSD's.
In the current market, where ultra-high-performance PCIe NVMe SSDs are prevalent, SATA3 is often seen as a legacy interface. This is because it was originally designed to support hard disk drives (HDD's) and has a limited transfer rate of 6 Gbit/s, which is equivalent to 750 MB/s in theory. However, due to overhead, the realistic maximum throughput is closer to 500-550 MB/s. The performance of SATA SSDs has already reached its maximum potential, as the underlying flash memory is faster than the SATA3 interface can handle. Therefore, there is little point in comparing Micron 5400 series SSDs to similar products from other vendors, as the performance differences would be minimal. Instead of that, we are going to look at generational differences to see if increasing density of the NAND has impacted the performance of Micron SATA SSD's.
To perform our evaluation, we have used following Micron SATA SSD's, that are available for testing at Boston Labs:
Micron 5300 PRO 1.92TB (96-layer 3D TLC NAND)
Micron 5400 PRO 7.68TB (176-layer 3D TLC NAND)
To evaluate sequential throughput performance, we used the widely recognized ATTO Disk Benchmark, which can test I/O chunk sizes ranging from 512 bytes to 64MB. The graphs below show the comparative performance of the 5300 and 5400 drives across a range of block sizes.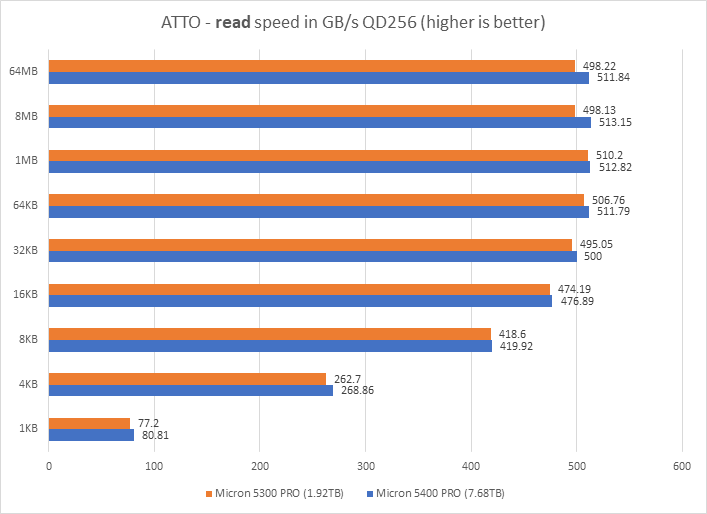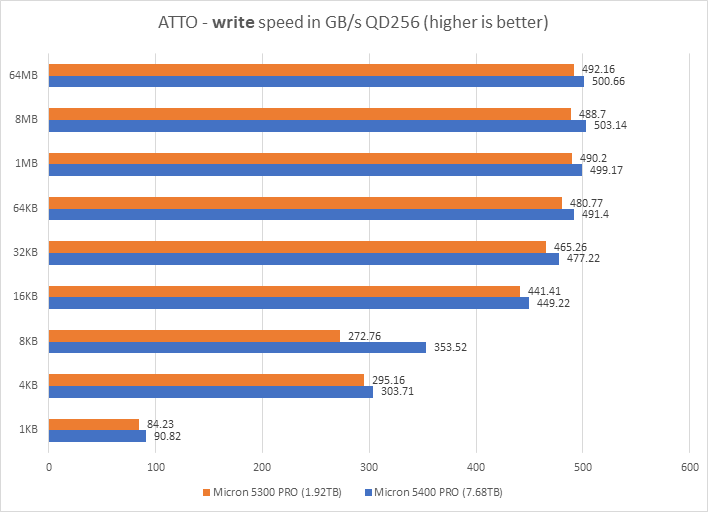 Based on our test results, the 5300 PRO and 5400 PRO performed very closely under both read and write conditions. However, the 176-layer model appeared to have a slight advantage over the previous generation model, demonstrating improved throughput across all block sizes. This is an excellent result!
To test random performance, we used the AS SSD Benchmark and selected a 4KB block size, 64 threads test using 10GB test file.

During the read workload, the Micron 5400 PRO performed exceptionally well, with almost 16k more IOPs compared to the older version. However, it was slightly slower during the write workload, showing a reduction of 12.3k IOPs. According to Micron, this may be due to some limitations in the drive controller's architecture.
The transition to NVMe technology is ongoing, but it is typical for a legacy interface to continue being used for years during market transitions. SATA interfaces are used in tiered architectures where factors like performance, power, compatibility, and cost need to be balanced. While SATA SSD's are much slower than NVMe SSD's, they are still capable of saturating network bandwidth while using less power per drive. It's important to note that SATA SSDs can also be used to replace traditional "spindle" hard disk drives with SATA or SAS interfaces. While they may initially cost slightly more than HDDs, SATA SSD's offer significant benefits such as improved sequential and random performance, lower latencies, increased reliability, lower power consumption, reduced heat generation, and silent operation.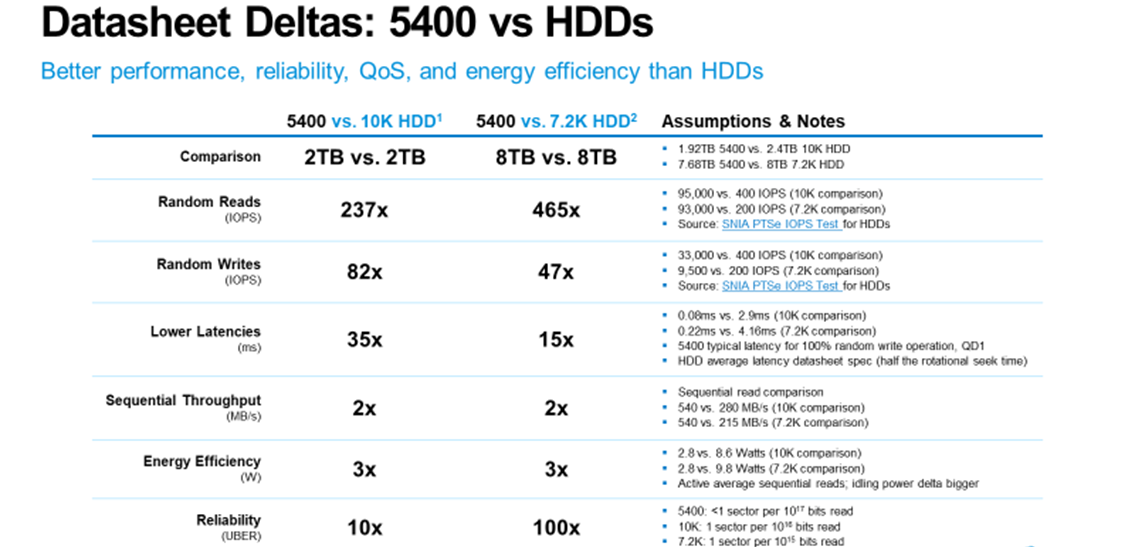 Pic: Benefits comparison of Micron 5400 series vs hard disk drives
In conclusion, Micron 5400 is an excellent SATA Solid State Drive that performed exceptionally well during our testing. By optimizing their manufacturing process, Micron was able to not only improve the performance of the 5400 series, but also increase its endurance compared to their previous generation drives. The Micron 5400 series SSD uses the same reliable architecture and firmware as the Micron 5300, with the main difference being the use of 176-layer replacement gate (RG) NAND. This makes it easy for customers who have previously qualified the Micron 5300 to quickly do the same for the Micron 5400. By utilizing 176-layer 3D TLC NAND, Micron can create drives with fewer physical chips, which lowers the cost of manufacturing. This allows them to offer the 5400 series at a lower cost than their previous generation drives, which were built with 96-layer NAND, making them an appealing choice for data center customers.
Boston Labs is all about enabling our customers to make informed decisions in selecting the right hardware, software and overall solution for their specific challenges. If you'd like to request a test drive of Micron 5400 Pro SATA SSD's or the other Micron products, please get in contact by emailing [email protected] or call us on 01727 876100 and one of our experienced sales engineers will gladly guide you through building the perfect solution just for you.
Author:
Tom Michalski
Senior FAE at Boston Limited