Posted on 06 December, 2022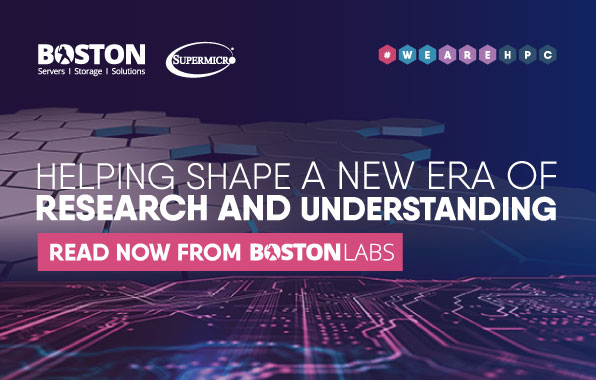 Helping shape a new era of research and understanding
Boston Limited are proud to supply some of the UK's largest, and some would argue, most important, research institutions with the latest, most performant and cost-optimised solutions available. For 30 years now, we have enabled them and their researchers to realise results from their experiments and data quicker than ever before. Boston have supplied HPC hardware to a number of the UK's largest universities and institutions including Royal Holloway, Sanga Institute, Genomics England, CERN, Genomics Western Australia, Deutsche Börse and we can confidently say we've had a hand in shaping the future of the next generation of researchers in bioinformatics, genomics, machine learning/AI, and beyond.
Transforming HPC with AI
To say that HPC has transformed the world of academic and private research would be an understatement. When you add to this the breakthroughs enabled by the latest generation of AI and ML, the possibilities start to become endless. In the year 2000, a project was launched to research the actions and interactions of proteins. This is a computationally expensive process, as there can be many ways a protein will behave depending on its characteristics. Because of this, the 'Folding @Home' project used distributed computing to attack the problem. This involved millions of home users downloading small packets of work, processing them, and uploading the results to a central server. In March 2020, the Folding @ Home project announced a groundbreaking milestone: They were the first compute system in the world to reach an ExaFLOP of performance, something which the worlds largest supercomputers would not reach for another two years.
Although groundbreaking, the project was still using traditional computing methods which were effectively brute forcing the problem. Then the DeepMind project came along, and instead used AI/ML techniques to solve the problem. Within a few months, DeepMind had managed to sequence over 200 million proteins, or, to put it in perspective, almost every protein known to science.
Success stories
Instadeep
InstaDeep is an EMEA leader in decision-making AI products for the Enterprise. With expertise in both machine intelligence research and concrete business deployments, the Company provides a competitive advantage to its partners in an AI-first world. They work across numerous verticals, helping companies solve problems from transport logistics to bioinformatics.
For example, in collaboration with German biotech company BioNTech, InstaDeep developed an Early Warning System (EWS) combining artificial intelligence (AI) and structural modelling to detect and monitor high-risk SARS-CoV-2 variants, identifying all 16 WHO designated variants on average more than one and a half months in advance by selecting less than 0.3% of the weekly novel variants. Notably, Omicron BA.1 was flagged by the EWS on the day its sequence was made available.
Utilising our close partnership with NVIDIA, Boston was able to supply InstaDeep with the latest generation of AI accelerators and helped them to realise their vision, and enable their customers to reach their full potential.
Pirbright
The Pirbright Institute specialises in virology, developing diagnostic tests, evaluating the effectiveness of new vaccines. Pirbright's longstanding expertise in viral diseases helped them provide vital services and information that helped to tackle the life changing pandemic caused by COVID-19. Once again, Boston was on-hand to provide the technological solutions required to undertake this groundbreaking work.