Posted on 11 July, 2022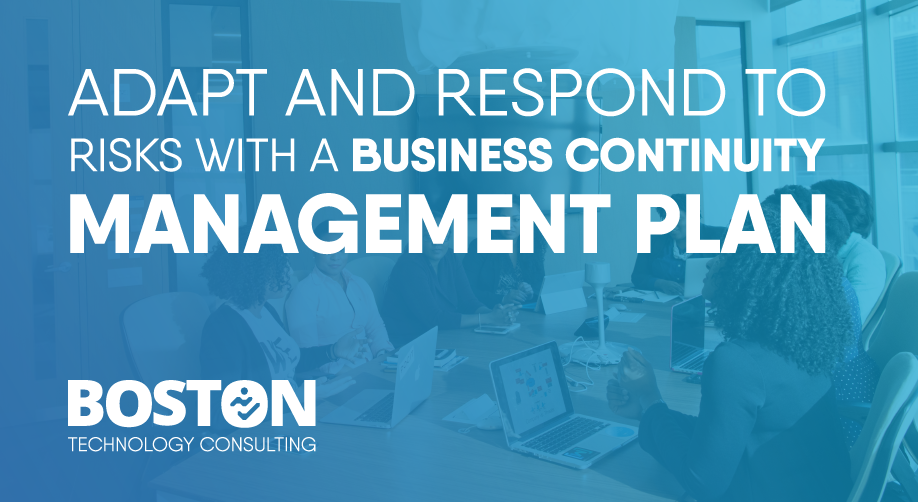 Today's organizations face a major challenge of managing complicated operations across various entities as they integrate business partners, suppliers, and even competitors into an extended company. The dependability and consistency of these operations are crucial to the survival of the organization and the development of competitive advantage. A business disruption at one location or, we can say, a branch of the company has a huge influence on the entire network of associated entities. The necessity for a strong risk management and business continuity management (BCM) programme has never been more essential.
Furthermore, organizations are being forced to establish business continuity management strategies due to the complexity of legal and compliance obligations. BCM is becoming more important as a means of gaining a competitive advantage.
What is Business Continuity Management?
Business Continuity Management, or BCM, is a comprehensive management process for recognizing threats and developing contingency strategies. The primary goal is to improve an organization's resilience to business disruptions while minimizing their damage thus keeping the business running at the minimum required levels.
Effective business continuity and crisis management plan can save companies from possible threats like Cyber Threats, hacking etc, and can even help them survive natural disasters. Businesses have a much higher chance of recovering back up and resuming quickly after a disaster if they have a robust business continuity plan and well-managed disaster recovery strategy. Businesses that don't have a disaster recovery strategy or a business continuity plan in place are considerably more likely to be wiped out by a natural disaster or a cyber threat.
Why is a business continuity plan important?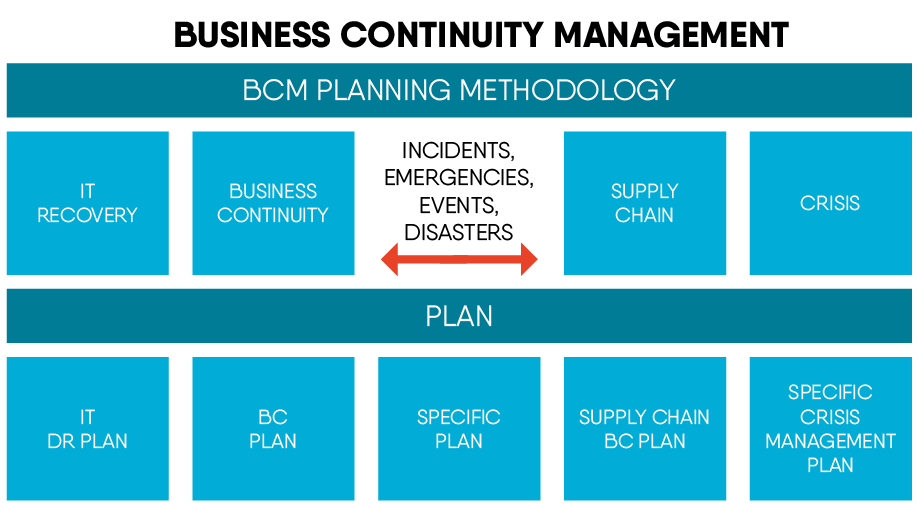 Business continuity plans help identify and solve issues related to business processes, applications, and IT infrastructure resiliency. According to IDC, an infrastructure failure costs $100,000 per hour on average, whereas a major application failure costs $500,000 to $1 million per hour.
Businesses have realized they need more than a strong infrastructure, it needs to support growth and protect data for them to survive and thrive in an ever-changing world. Today, companies are increasingly developing comprehensive business continuity plans that can keep their firm running smoothly, secure data, protect the brand, keep customers' trust and confidence, and, in the long run, help save money on total operating costs.
Over time, an effective business continuity strategy can reduce downtime, improve IT disaster recovery, and improve corporate crisis management capabilities, as well as regulatory compliance.
Since systems are increasingly linked and deployed across hybrid IT environments and creating vulnerabilities, developing a complete business continuity plan has become more complicated. If a company fails to retain business resiliency while fast-changing and responding to threats and opportunities, it risks losing revenue and losing customer trust.
Effective Business Continuity Plan (BCP) features
The Business Continuity Plan should consist of the following features:
Strategy: All objects required to perform day-to-day tasks while maintaining continuous operations in a business.
Applications and data: Objects about the software required to enable business operations, as well as the method used to ensure that software is highly available.
Processes: These are business processes that are essential to ensuring smooth operations, as well as ensuring that critical business processes are completed.
Technology: These are systems, networks, and industry-specific technologies required to enable the continuous operation and backup of applications and data.
Facilities: Disaster recovery items are necessary to provide a backup site in case the primary site is destroyed.
Business Continuity Tools
There are many various types of business continuity tools to choose from, each of which serves a slightly different purpose.
Backup: One of the simplest ways to ensure business continuity is to back up data. Business continuity is provided in part by storing data off-site or via remote drives, but other tools must be in place to back up the IT infrastructure and keep it running after a disaster.
Backup as a Service: This is similar to backing up data to remote locations, except that it is handled by a third party. Only the data is backed up and not the IT infrastructure.
Point-in-time and Instant Recovery Copies: At regular intervals, point-in-time copies or snapshots copy the entire database. Like point-in-time copies, Instant Recovery copies capture snapshots of whole virtual machines. Data can be restored from backups if they are stored off-site or on a virtual computer that is not affected by the disaster.
Cold Site: Businesses might set up minimal infrastructure in a second building known as a cold site where employees can work after a natural disaster. A cold site can aid in the continuation of business operations, but it must be used in conjunction with other disaster recovery strategies that safeguard or enable the recovery of critical data.
Warm Site: All the components of a cold site are included in a warm site, along with additional components including servers, switches, and storage hardware like tape or disc drives. Although warm sites are in some ways "ready to go," they still require data to be moved to them to be used in disaster recovery.
Hot Site: A hot site is a secondary business location that serves as a cold site and keeps an up-to-date copy of data on hand at all times. Hot sites reduce downtime substantially, but they are more expensive and time-consuming to set up than cold sites.
Disaster Recovery as a Service (DRaaS): A disaster recovery as-a-service (DRaaS) provider shifts an organization's computer processes to its cloud infrastructure. Businesses can utilize a subscription or a pay-per-use model to pay for this service. One benefit of DRaaS is that businesses can continue to operate without interruption from the vendor's location, even if their servers are unavailable. Choosing a local DRaaS supplier can assure faster response times, but if the vendor's servers are too close to the disaster site, they may be impacted by the same disaster.
Physical Tools: Physical disaster recovery tools can help mitigate the effects of some types of disasters, except cyber attacks. Fire suppression tools that let data and computer equipment survive a fire, as well as a backup power source that helps organizations survive short-term power outages, are physical elements that can support business continuity.
Virtualization: Backing up an IT infrastructure is one of the most challenging aspects of business continuity strategies. Through virtualization, it is possible to back up a copy of an organization's entire computing environment. Disaster recovery processes can also be automated using virtual machines that are unaffected by physical disasters, speeding up the recovery process. Virtualization should move data and workloads often to be an efficient disaster recovery tool. IT departments must have a clear and up-to-date view of how many virtual machines are in use at any given time.
It is critical to test the tools and disaster recovery procedures before a disaster happens, regardless of which tools an organization chooses to support business continuity.
At BTC, we help businesses identify risks and ensure they are prepared to detect, react, and recover from a disruption. Get in touch with our team today to guarantee you have a successful Business Continuity Plan for your organization - [email protected]