Posted on 17 March, 2022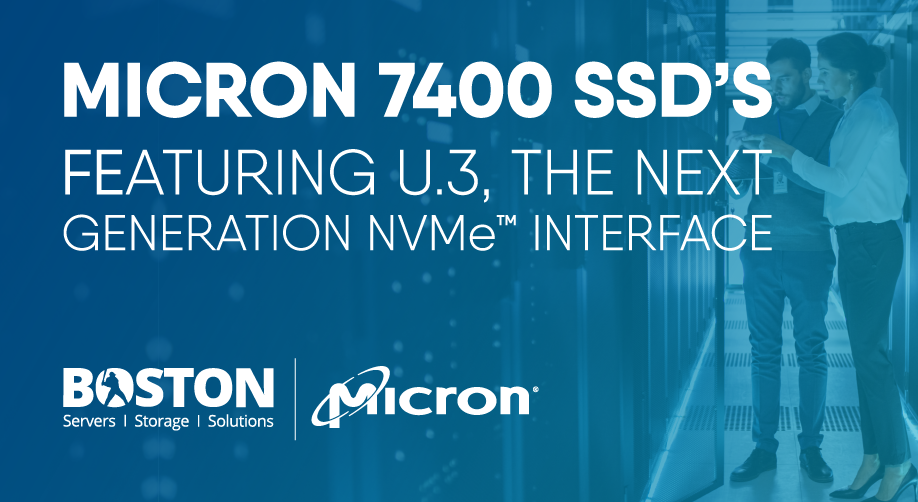 Micron 7400 series SSD's are designed for professional use in high-performance servers. They're built with 96-layer triple-level cell (TLC) Micron NAND for great power efficiency and storage density. Several form factor options include M.2, 2.5'' U.3 (both 7 and 15mm options) as well as E1.S for ultra-dense storage platforms. A PCIe 4.0 x4 interface with NVMe 1.4 storage protocol offers double of the bandwidth over PCIe 3.0 too.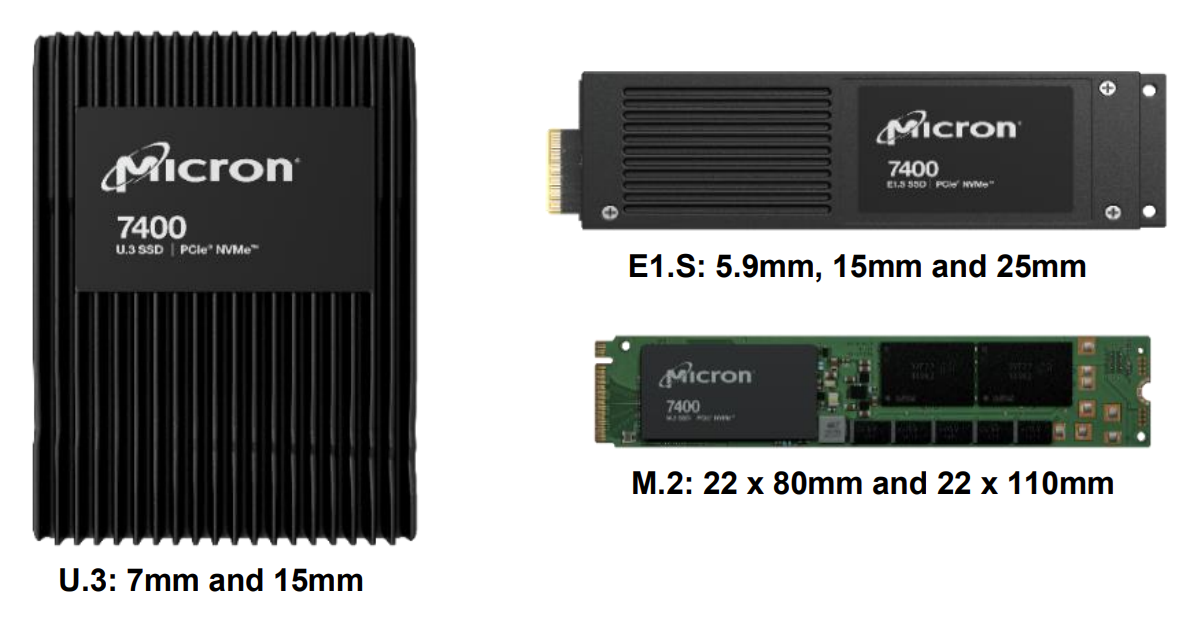 Micron 7400 - What are my options?
The Micron 7400 comes in many capacity points starting from 480GB up to 7.68TB depending on the form factor. There are also two endurance options -
PRO is designed for read-intensive workloads and offers up to 1DWPD (drive writes per day)
MAX is targeted for mixed-use workloads and offers up to 3DWPD over 5 years
Full specs along with the performance figures can be found in the below table.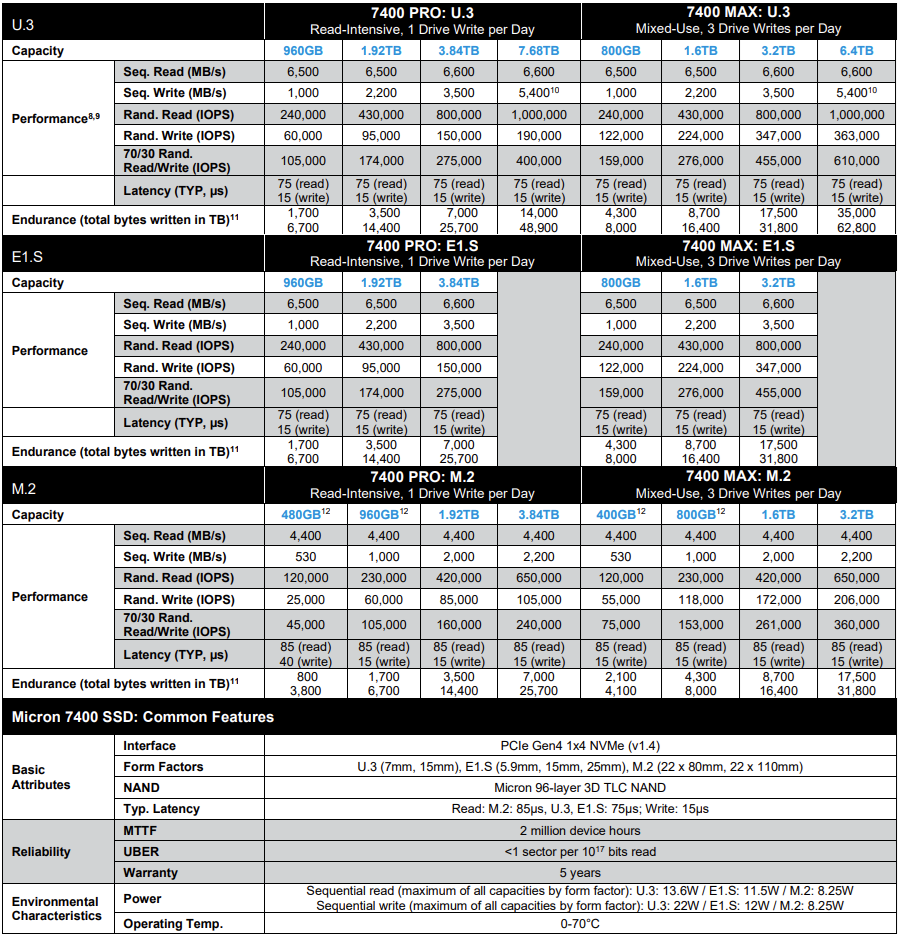 Micron 7400 spec and perfornance sheet
The Micron 7400 comes in 3 security flavours - SED (self-encrypting-drive) Opal 2.01, SED TCG 2.01 + IEEE-1667 or a non-SED. The below part number decoder will help you to identify the meaning behind each character in the product part number.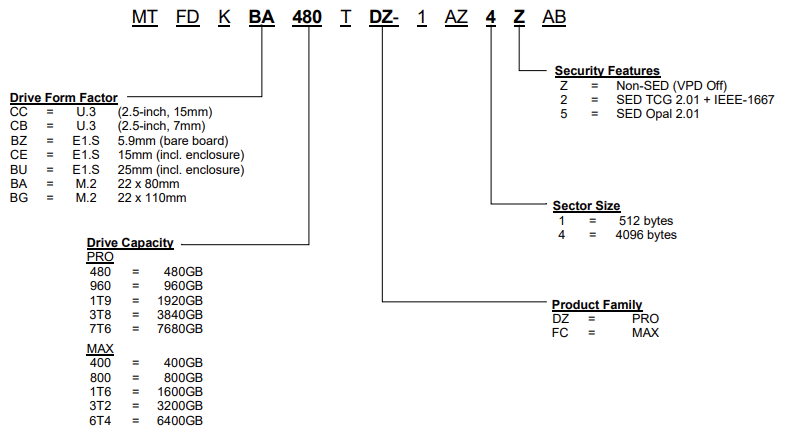 Micron 7400 series part number decoder
One of the more unique features of the Micron 7400 series SSD that was not present in the previous generation (Micron 7300 series) is support for 128 NVMe namespaces. This means that the drive can be logically divided into smaller sections, each with independent I/O submission and completion queues, which helps minimalising multiuse interaction by helping NVMe SSD keeping the I/O for each namespaces separated. This is most useful when sharing NVMe SSD over high-bandwidth fabrics.
Today, thanks to our friends at Micron, Boston labs are pleased to announce another addition to our test drive pool, eight Micron 7400 Pro 7.68TB NVME with U.3 interface in 2.5'' 7mm form factor.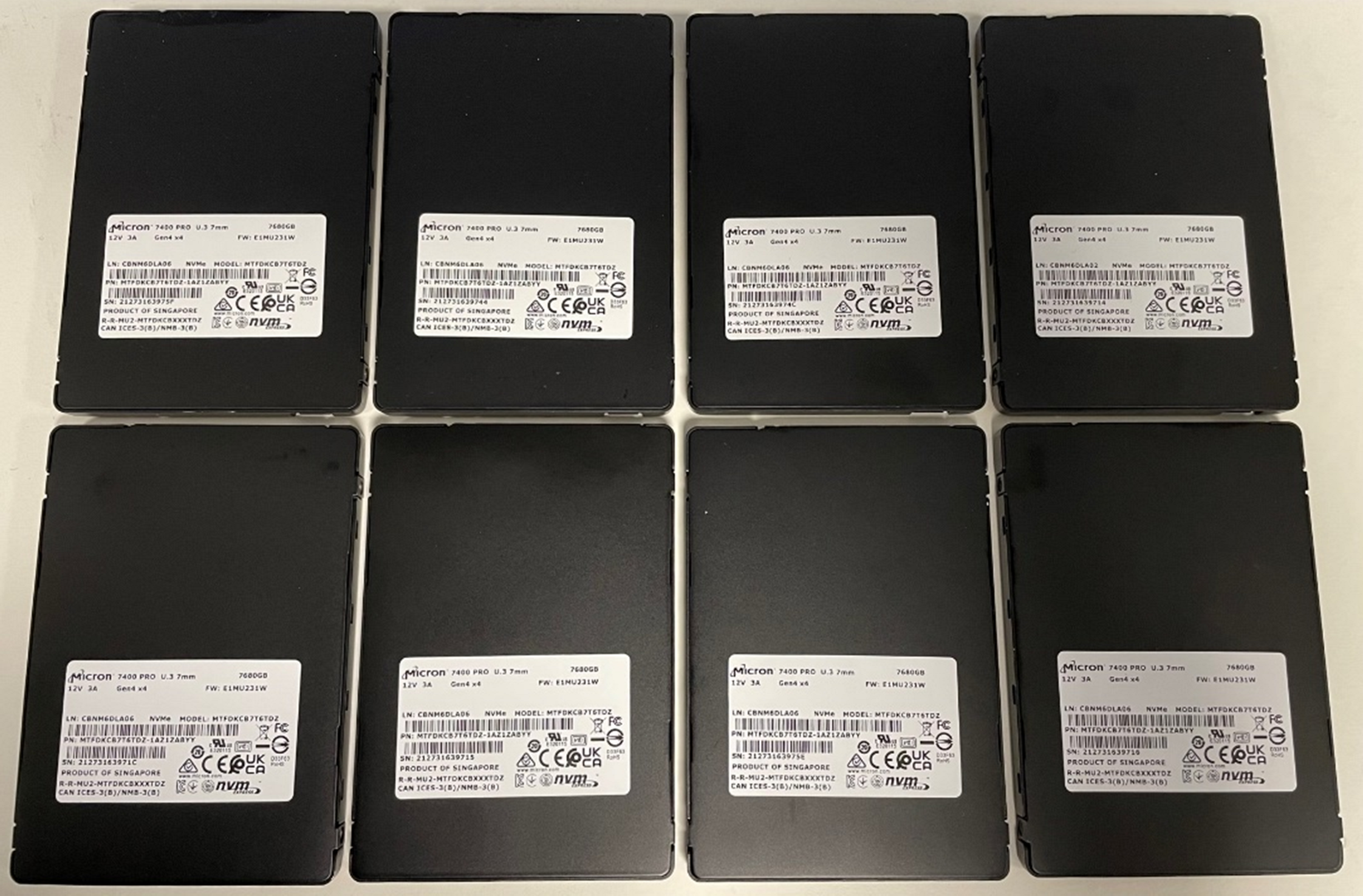 Micron 7400 PRO U.3 NVMe SSDs at Boston Labs

U.3 is a new interface standard for 2.5'' NVME SSD's that is an evolution of U.2 and has been used for some time. The main benefit is that the disk backplane inside the server chassis that features U.3 interfaces can carry SATA, SAS or NVMe signal through one physical connector and one cable that is connected to a Tri-Mode controller. This results in fever connectors on the backplane and less cables inside the server which in theory means lower server cost.
While this sounds like a great solution, realistically however running SATA, SAS and NVMe on the same controller within the server rarely happens as the setup often bottlenecks the performance of NVMe drives.
Tri-Mode also do controllers for example, and have their PCIe bandwidth limitation of usually x8 or x16, so they are unable to run more than 4 NVMe SSD's at full speed off one controller before there is some contention.
Where this can be useful is tiered storage arrays where a mix of HDD and NVMe are required to give a good balance of performance and capacity without having to use 2 separate controllers or backplanes.
Previously with U.2, the connector on the backplane can also support SATA, SAS and NVMe, however it requires connecting multiple cables to separate the SATA, SAS or NVMe controller to support all types of drives on every disk bay on the backplane which is quite inconvenient.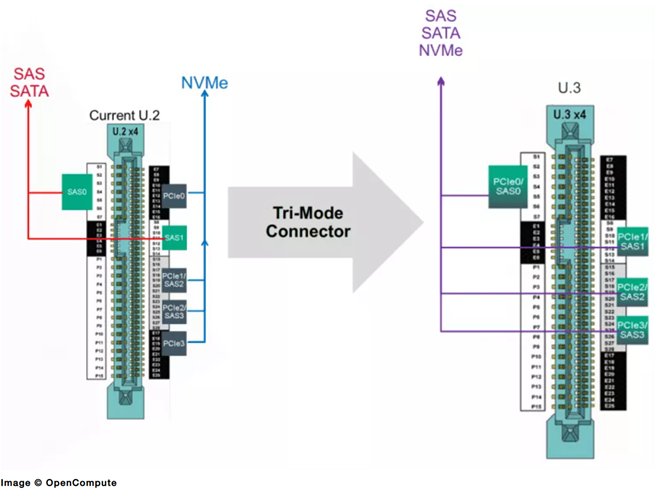 U.3 vs U.2 interface design
Thankfully, U.3 drives are backward compatible with U.2 backplanes; this means that you can use an U.3 NVMe SSD on the already available servers that use U.2 interface. Boston have also verified this by testing Micron 7400 Pro SSD's in our Supermicro based servers.
To date, Supermicro did not yet move to adopt U.3 standard on their backplanes because their products focus on the highest performance. Supermicro servers tend to have dedicated drive bays to support NVMe SSD's that are connected directly to the PCIe 4.0 bus using 4 lanes each. This means every drive can run at its full bandwidth and there is no limitation.
Additionally, U.3 backplanes are not compatible with U.2 NVME drives, so until U.3 drives are the norm, it will make selecting a drive difficult. With lead times as they are, reducing the number of compatible drives to choose from is not ideal.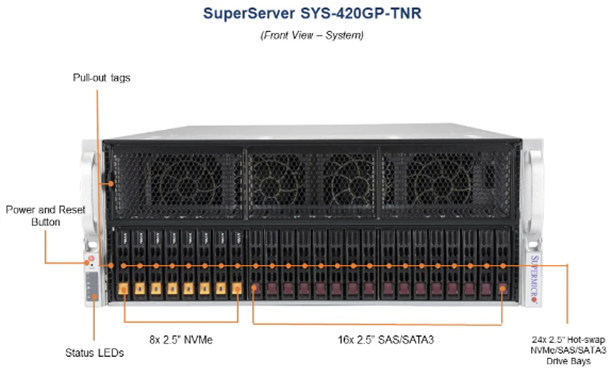 Orange drive caddies inside the Supermicro SYS-420GP-TNR server are used to identify support for NVMe SSD's whilst red identifies SAS/SATA
Boston Labs is all about enabling our customers to make informed decisions in selecting the right hardware, software and overall solution for their specific challenges. If you'd like to request a test drive of Micron 7400 NVMe SSD's or the other Micron products, please get in contact by emailing [email protected] or call us on 01727 876100 and one of our experienced sales engineers will gladly guide you through building the perfect solution just for you.
Written by:
Tom Michalski
Senior FAE at Boston Limited