Posted on 19 November, 2021

It's undeniable that digital transformation is driving the growth and changing the world dramatically - the way people live, businesses operate, information is shared, and processes are followed. According to a recent survey from McKinsey, digital transformation has taken a leapfrog by several years due to COVID-19.
The definition of "Digital Transformation" is vast.
"Digital transformation will look different at each company...tools will be deployed differently to meet the unique needs of each business." - Wharton School of Business.
So it's really difficult to nail down the definition. However, at the core, it's about using new technology to improve every element of your business and life!
Let's look at the 5Ws and 1H of the digital transformation process.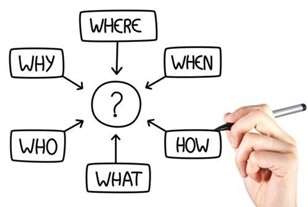 What Digital Transformation means to your organization?
Before you begin your digital transformation journey, it's important to first understand what digital transformation means to your organization. In general, digital transformation means "the use of technology to radically improve performance and/or the reach of your businesses." When we talk about improvement - a deep analysis of the current state of your processes, products, plans, performance, people is needed. There is a scope of stepping higher in each of these areas.
Analysis, followed by your expectation of the digital transformation will help you design the strategy and the approach. This will help you take a step closer to your digital transformation journey.
Why Digital Transformation is relevant to you?
It's become clear that in order to survive in the new world, technology is not a choice, but an integral part of the business strategy. To survive in the competitive environment and stay ahead of curve, a digital-first approach is needed. Having a digital-first approach will assist in areas including improved employee performance, internal and external communication, enhanced customer experience, and an enriched products and services portfolio. Information and technology will help you to collect and collate data from all the pertinent data points at different stages, and improve your functional efficiency. For any industry of any scale or segment, digital transformation is imperative.
When do you need to start transforming?
The answer to this question can be as simple as "now" or as complicated as "when you are ready". Many organizations fail in the implementation of a digital transformation process because they start without a plan or they only implement a small section of the entire process. Start by defining a well-structured plan that includes objectives and goals followed by an assessment of your digital capabilities. When you have these things in place, you are ready to define your milestones and the DX journey. This is when you can start the implementation.
Digital transformation is not just about modernizing your business applications, datacenters, and infrastructure. It's about setting up a digital culture which is an ongoing process. It is about the future of business, customer experience, and employee engagement.
Where will you see the benefit of the transformation process?
Digital Transformation strategy is driven by PEOPLE responsible for implementing successful PROJECTs to optimize and streamline PROCESS. The core foundation of Digital Transformation is the choice of PLATFORM, ideally, a platform that can fit within the existing IT infrastructure or that can integrate with the greater IT ecosystem.
The success of digital transformation depends on these 4Ps, which are primarily responsible for facilitating the journey. All four aspects are interlinked - for example - the adoption of new technologies and platforms will make no sense if the people who will need to adopt them into their working practices are not trained to use them. Upskilling of employees, adapting to new processes, leveraging data for improvising the project plans, and utilizing the right platform – are all equally important for the digital transformation and its success.
Who can benefit from digital transformation?
The ultimate purpose of any business is to grow and generate profits. Organizations go through the hassle of new platforms, technologies, or digital culture adoption in order to increase and improve profitability and business sustainability. Digital Transformation is the driving force for any business. So, who benefits from digital transformation? Everyone. When the origination grows, people grow, customers grow, and profits also grow!
How will you start your digital transformation?
Preparing for any transformation starts with a well-designed communication plan. The communication to all the stakeholders – leadership, employees, partners, and customers about the strategy, the milestones, the implementation plan and, their role within the process is critical for them to be participative and support the activities. If the value of a transformation is not communicated well, the company may not obtain intrinsic buy-in from employees which could act as a hindrance later in the journey. There is always initial inertia for any technology transformation, however, with the right initial approach, DX promises long-term success and a sustainable future. It is always good to have an external third party to provide support around assessment, strategic planning, and milestone set-up, for an unbiased professional objective and approach.
Happy Transforming! Happy Growing!
Reach out to our Digital Transformation Consultants today to help you with your customized digital transformation! Email us at [email protected] to begin your Digital Transformation journey now.