Posted on 10 September, 2021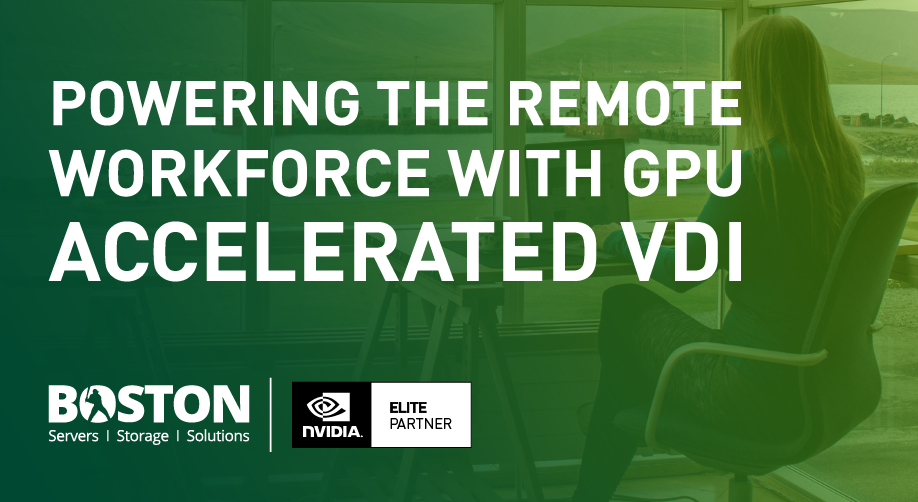 As remote working is becoming the norm now, it's important to ensure you and your employees have the correct software. Organisations with remote workforces need great user experience as well as greater scalability, data security, and simplified manageability. NVIDIA's virtual GPU (vGPU) helps address the challenges of virtualisation which is more important than ever as an increasing amount of our workforce moves to flexible, remote workspaces.
NVIDIA GPU software enables powerful GPU performance for workloads ranging from graphics-rich virtual workstations to data science and AI, enabling IT to leverage the management and security benefits of virtualisation as well as the performance of NVIDIA GPUs required for modern workloads. Installed on a physical GPU in a cloud or enterprise datacentre server, NVIDIA GPU software creates virtual GPUs that can be shared across multiple virtual machines, accessed by any device, anywhere.

Bare Metal Performance: Deliver performance virtually indistinguishable from a bare-metal environment
Management & Monitoring: Leverage common datacentre management tools such as live migration
Optimal Resource Utilisation: Provision GPU with fractional or multi-GPU virtual machine (VM) instances
Improve Business Continuity: Responsive to changing business requirements to remote teams
Businesses demand greater agility in order to stay ahead of competitors and address the rapidly evolving global market. NVIDIA vGPU products transform workflows to liberate your users and data from the confines of PCs, workstations, offices, and distance. This means your teams can collaborate seamlessly in real-time, from any location using any device. NVIDIA vGPU can be used to solve complex problems in every industry including Higher Education, Financial Services, Manufacturing, Architecture, Engineering & Construction (AEC), and the Public Sector.
Our Sales team are ready to help with your vGPU requirements, no matter how big or small! Get in touch today to begin your vGPU journey by emailing us at [email protected] or call us on 01727 876100.