Posted on 02 September, 2021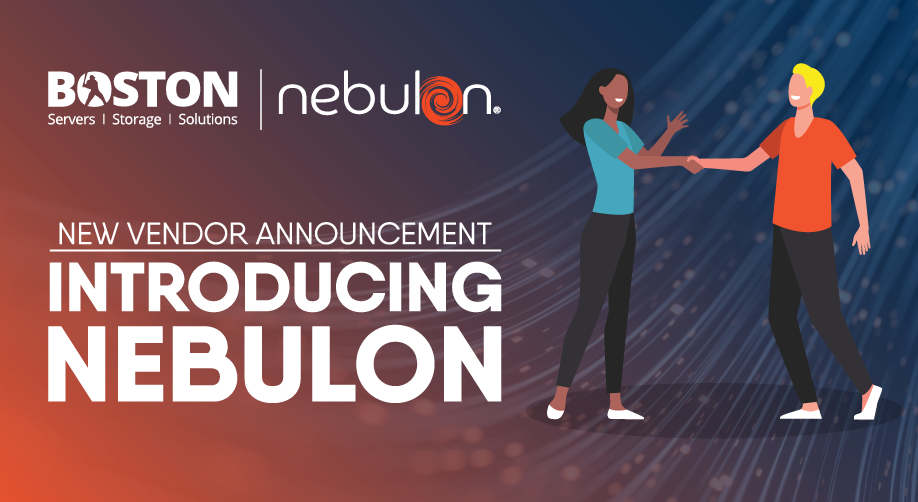 As global high-performance computing integration specialists, Boston partners with certified vendors who innovate and provide leading-edge appliances.
We are therefore pleased to announce our new partnership with Nebulon, who specialise in server-embedded, infrastructure software delivered as-a-service, which offers the benefits of the public cloud on-premises, from core to edge for any application.
Why go smart? "Bring the cloud experience to your enterprise applications with a single API across your entire on-premises deployment. It's time to view the cloud as an operating model, not the destination"
What is Nebulon smartInfrastructure?
'Smart' infrastructure is all around us. A good example is through smart home technology - homeowners can easily access and manage their temperature, lighting and security through their phones. This is known as self-service infrastructure. At the heart of smart infrastructure, in order to deliver the public cloud experience for any on-premises application, a cloud-based control plane is required - a hyperscaler-agnostic approach that can achieve massive scale, deliver responsive queries and offer an API-first approach to users.
Nebulon has pioneered the concept of smartInfrastructure - server-embedded, infrastructure software delivered as-a-service - with a cloud control plane, called Nebulon ON, that manages on-premises application server infrastructure leveraging SPU IoT endpoints embedded in each application server. With this approach, application and infrastructure owners can now experience the benefits of self-service infrastructure and zero-touch, remote management-as-a-service for applications that must remain on-premises.
smartInfrastructure Benefits:
Easy to deploy
Immediate Value
Any Application
Simple to Automate
Cloud Intelligence

The solution can be cost-effectively deployed anywhere - in centralised, hosted or edge data centers; and supports any application type - containerised, virtualised and bare metal. To find out more about Nebulon, visit our partner page or get in touch with our Sales team at [email protected], who are on hand to answer any questions you may have.