Posted on 13 August, 2020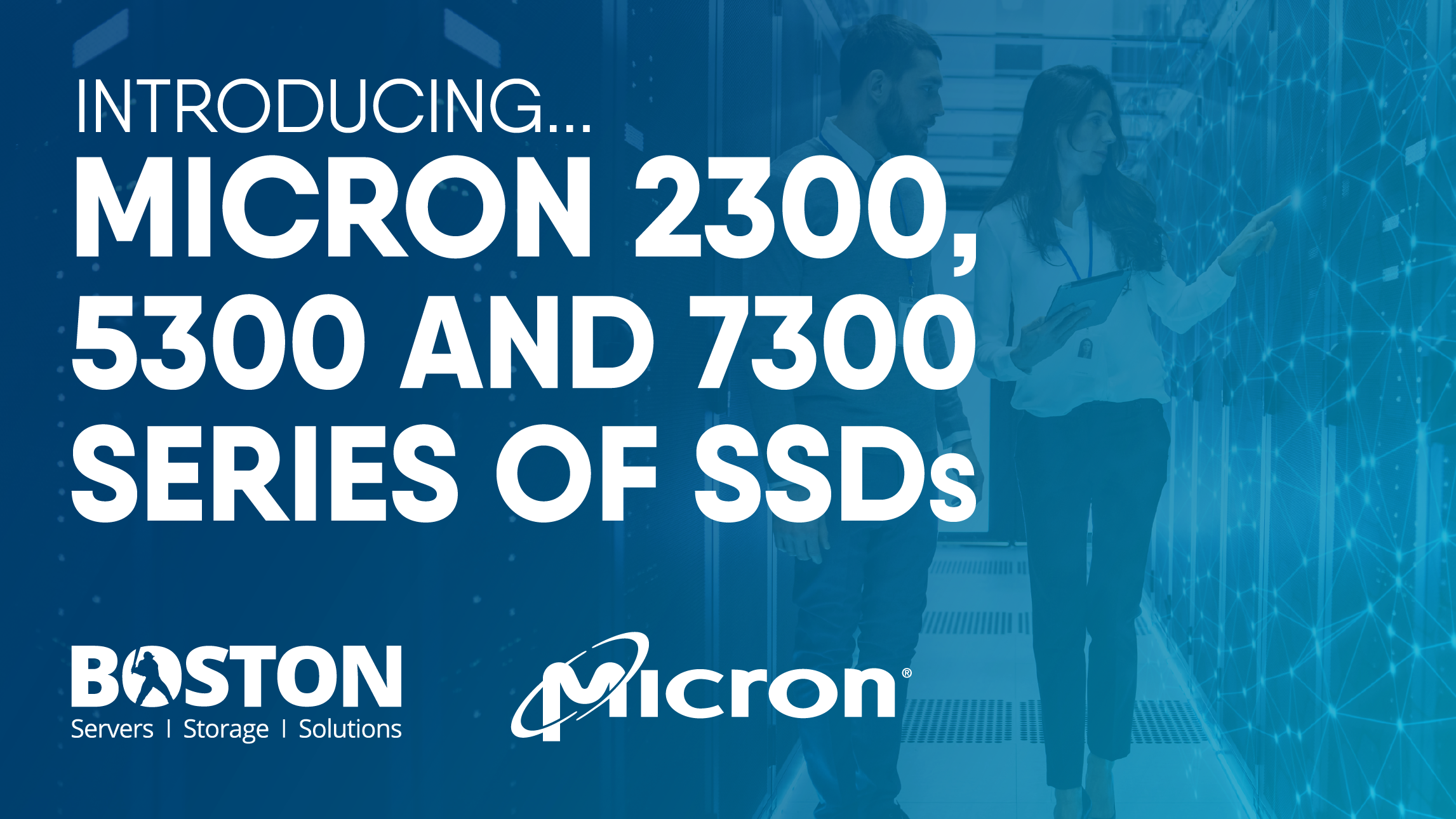 Built on Micron-developed controller, firmware and innovative, 96-layer NAND, the 2300 SSD with NVMe™ is the thinnest, lightest heavyweight yet! This SSD combines the power and density needed to drive workstation applications with the compact form factor and power saving features demanded by modern mobile users. Intended for applications that demand high performance and industry leading capacities up to 2TB, the Micron 2300 SSD has blazing fast NVMe™ speed and optimised power for client computing.
Key Benefits:
The Freedom to Store More
Industry-leading 2TB capacity using Micron's innovative 96-layer 3D NAND technology in a single-sided M.2 form factor provides flexibility in design.
Power Smart for All-Day Freedom
The Micron 2300 SSD manages power intelligently within the device to drive predictable performance with low power.
Big Performance in a Small Package
Micron's high-density 96-layer 3D TLC NAND provides density, high performance and lower power consumption for a low total cost of ownership (TCO). The small, dense M.2 form factor (22x80mm) fits a broad set of desktop and mobile design needs.

Maximise your data centre with the performance, consistency and expanded data security of the Micron 5300 SATA SSD. As the first cost-effective, 96-layer TLC NAND flash drive for SATA, this series of SATA SSDs brings the latest 3D NAND technology and has a mean time to failure (MTTF) of 3 million device hours which is 50% more than the norm!
Key Benefits:
Security for your data
Solid, secure, firmware-based security includes power-loss protection for data at-rest and in-flight, as well as data centre-class data path protection for user and meta data.
Performance for Read-Intensive, Mixed-Use
Take advantage of the Micron 5300 optimisations for read-intensive and mixed-use workloads. Your cloud and data centres will show strong performance for media streaming, online transaction processing (OLTP), block and object stores, and small random block.
Broadest SATA Portfolio gives you the option
Micron's long-term commitment to the data centre SATA SSD space means you have options in how you move to an all-flash future.

Get the fast, low latency and consistent performance that your applications demand from the Micron 7300 NVMe SSDs. Built for workloads that demand high throughput and low latency, these SSDs are for more than just top workloads, they are ideal for mixed read-write, compute and virtualised workloads of today, all while staying within budget!
Key benefits:
NVMe Performance; Approachable Price Point
Get up to 6X the performance of data centre SATA SSDs at comparable prices
Micron's 96L NAND technology
Bring the kind of high performance and reliability require for numerous applications with dense, efficient 96-layer 3D NAND architecture.
A Real Cloud Pleaser
On-prem and off-prem cloud platforms support workloads at immense scale. The Micron 7300 delivers the low latency and high performance combo that the cloud demands with up to 3.0 GB/s read and 1.9 GB/s write throughput.

To find out more about Micron NVMe SSDs, contact our Sales team on [email protected] or call us on 01727 876100.