Posted on 05 June, 2020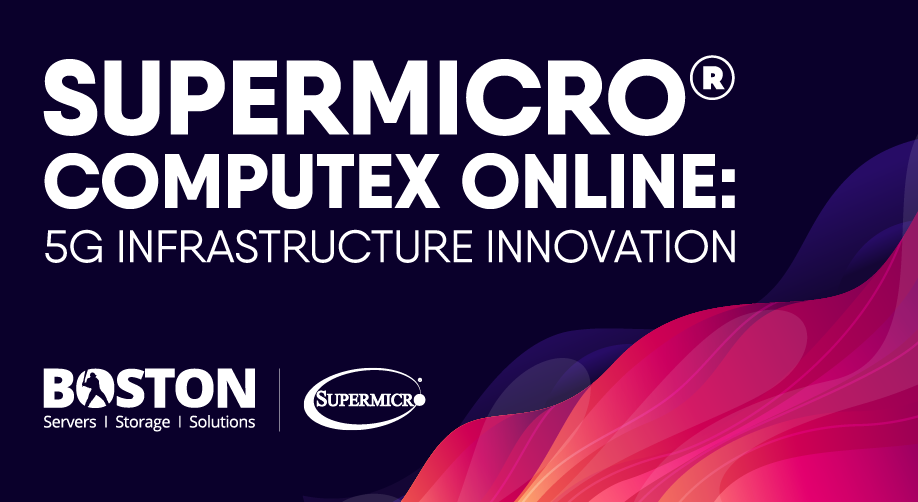 Supermicro Computex Online: 5G Infrastructure Innovation
Supermicro, a global leader in enterprise computing, storage and networking solutions, unveiled its Intelligent Edge Systems and gave a preview to its new CloudDC line of servers designed for large-scale deployments in cloud data centers during the #COMPUTEXOnlineTalks session yesterday.
Charles Liang, president and CEO of Supermicro, began his talk with their new cloud server line as well as their 5G and intelligent edge solutions. It's important to note, Supermicro has previously recognised the need for a robust cloud platform to provide network operations with an environment to develop applications and a disturbed edge. Most important when understanding the core 5G network functions will be tightly interwoven with fueld public clouds. Supermicro's next-generation dual-processor CloudDC servers feature multiple storage options in 1U and 2U servers, dual OCP 3.0 compliant AIOM slots for up to four 100GbE ports, support for Open BMC, an all-hybrid backplane design supporting SATA3, SAS3, or NVMe storage drives, and a simplified architecture optimized for hyperscale environments.
"With our already strong position in 5G infrastructure and the initial release of CloudDC servers, Supermicro provides customers with optimized next-generation systems from the edge to the cloud," said Charles Liang, president, and CEO of Supermicro. "This combination demonstrates Supermicro's continuing focus on x86-based systems and support for open-source NFV (network functions virtualization) compliant solutions leveraging NEBS and off-the-shelf validated telco software powered by our server and storage Building Block Solutions®."
Collaboration with Intel on 5G
During Charles' talk, he introduced Navin Shenoy from Intel's Data Platform Group who mentioned how the relationship between Intel and Supermicro, spanning over 27 years, always endured in good time and difficult times and has seen both parties push each other to innovate. First seeing the dual-socket Xeon in 2001; they also saw collaborations on twin architecture motherboard which has since become an industry standard. Looking ahead - an exiting future has been defined with these big megatrends; prefoliation of cloud intergerns, growth of AI and the rise of the intelligent edge. Edge computing allows for computation at the edge and this is aded by the shift to 5G - the future is about unleashing the power of 5G around the world. Recently Supermicro and Intel have been working on the broadest portfolio to help move data to store data and to process all that data through a smart NIC Optane memory, FPGA and GPU and Xeon CPU solutions. "This is going to acquire even deeper collaboration excited to be extending the partnership with Supermicro to new and exciting areas we been working together on telecommunication on 4G and now 5G and high-performance computing particular on the Ruby Project Laurence Livermore solution to fight COVID-19 that major industry challenge we have today." Shenoy concluded.
Green Computing in Mind
Designing products with power saving in mind has been one of Supermicro's goals as a green solution provider. Customers including Intel's data center which have shown a huge saving of 40% energy costs with a design enabling the customer to use less energy and cost. Not just for the systems but also for the datacentre can run PUE 1.06 - again saving energy. With resource-saving architecture, customers are able to install their power supply for a maximum of 12 years interchanging, CPU, memory, storage within 3/4 years buying fewer components, and saving on costs. Some customers have saved 10% or up to 50% all aiding to creating a greener planet. Supermicro has applied this Green Computing to its 5G servers ensuring HPC paving the way for Greener computing.
CloudDC Servers
The Supermicro CloudDC servers offer exceptional value for a multitude of use cases. For the private cloud, CloudDC servers have flexible storage and expansion, NVMe over fabrics, rapid deployment, easy maintenance, and high scalability. In the 5G/telco arena, CloudDC systems are designed to be NEBS Level 3 ready, support O-RAN virtualized network elements such as DU, CU, and core and as well as accommodating FPGA accelerator cards. The platform supports up to four GPU accelerator cards and can process deep learning training and inference, data analytics, graphics, and high-performance computing.
Supermicro announced earlier this year its first-to-market Outdoor Edge Systems. These IP65 enclosure-based servers are optimized for 5G RAN, AI inferencing, and other intelligent edge-focused applications. These new systems support the industry's movement toward open-source software and x86 disaggregated hardware and are ideal for harsh outdoor environments.
For more detailed information on 5G Supermicro solutions head over to our Supermicro store or speak with a member of our sales teams at [email protected]
Watch Charles's full OnlineTalk session on the Supermicro webiste https://learn-more.supermicro.com/computex-2020.